– This event has already taken place –
STIMMUNG


Sunset at St. Ludwig with meditative music by Karlheinz Stockhausen with ChorWerk Ruhr
—
Sat 28 July 2018, 21.00
St. Ludwig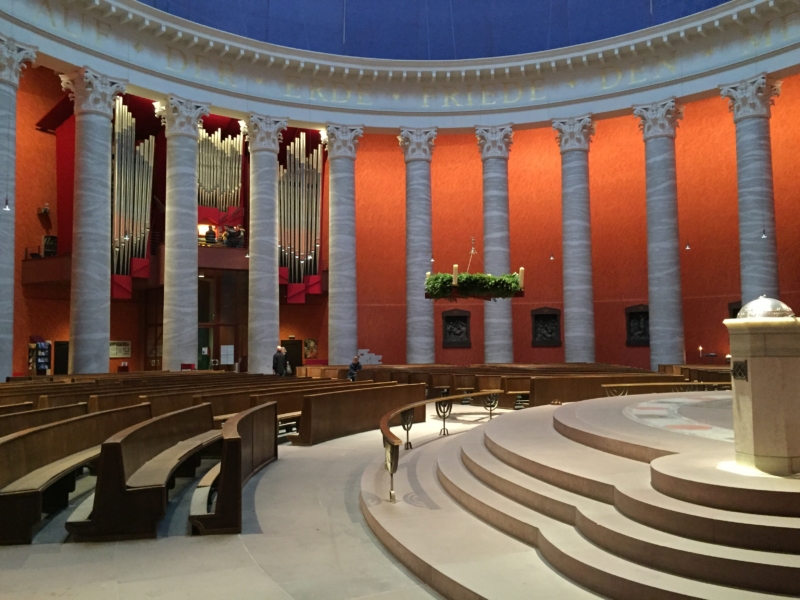 Karlheinz Stockhausen: STIMMUNG (1968) for six vocalists – "Paris Version"
ChorWerk Ruhr
Julia Mihály (Musical Direction)
"Time is suspended. One listens to the inner self of the sound, the inner self of the harmonic spectrum, the inner self of a vowel, the inner self. The subtlest oscillations – barely a ripple – all the senses are alert and restful. In the beauty of things sensual shines the beauty of things eternal." (Karlheinz Stockhausen on STIMMUNG)
Karlheinz Stockhausen's vocal piece STIMMUNG sets the focus for the final day of the 2018 Darmstadt Summer Course. In the early morning we will walk along a special section of the Darmstadt Forest Art Path to experience the 70-minute composition performed by the contemporary ensemble Chorwerk Ruhr at sunrise. It consists of a single chord repeatedly "detuned" through the articulation of different vowels and thus changed timbres and overtones. The lyrics consist on the one hand of so-called "magic names" of gods of various world religions and on the other of erotic, witty verse that Stockhausen penned especially for this composition.
At sunset the piece composed in 1968 will be repeated by the six vocalists in St. Ludwig's Church.
Please note
We advise visitors to bring along small seats or blankets for the morning performance in the forest, as the ground might still be damp and alternative seating will not be available. If it rains the performance will unfortunately have to be cancelled. We will advise you the evening before whether the performance will be able to take place.
The route to the venue will be signposted from the public transport stops "Marienhospital" and "Böllenfalltor."
Presented in collaboration with the International Forest Art Path 2018