Feedback Sessions


Workshop with Heloisa Amaral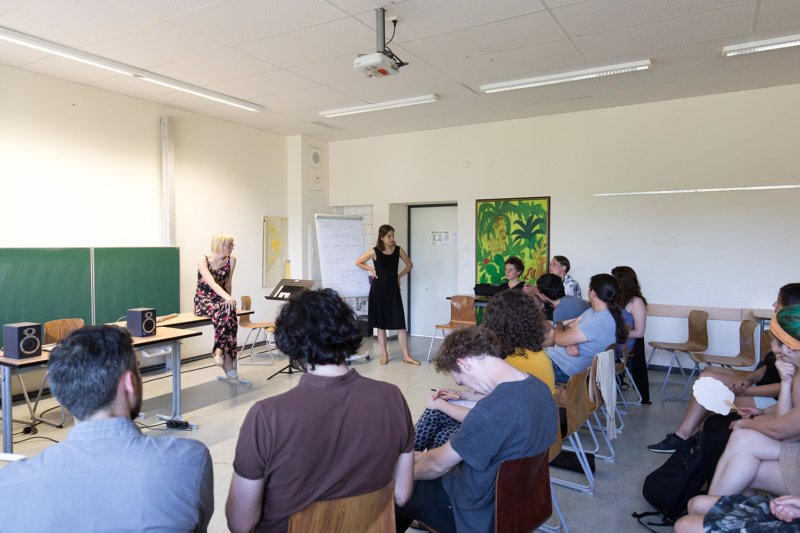 Tutor: Heloisa Amaral
Participants: open to all participants and tutors of the Darmstadt Summer Course
Dates:
16. 07., 17:00 – 19:00 Introduction
18. 07., 15:00 – 16:00
20. 07., 14:00 – 15:00
21. 07., 13:00 – 15:00
22. 07., 14:00 – 15:00
23. 07., 14:00 – 15:00
24. 07., 14:00 – 15:00
26. 07., 11:00 – 12:00
(27. 07., 11:00 – 12:00 tbc)
Lichtenbergschule (Room 316)

Maximum capacity of each session: 8
If you'd like to present a project in the Feedback Sessions or are interested in learning methods of giving concrete and constructive feedback, please sign up via e-mail:
feedback@internationales-musikinstitut.de
E-mail registration is much appreciated, but spontaneous participants are welcome if the group is not over 8 persons.
Being able to share knowledge and expertise with colleagues is essential for the development of an independent professional artist. In performance arts such as theater and dance, concrete methods and strategies for peer-to-peer feedback are widespread. Within contemporary music practice, however, the topic has not been given much formal attention. For her feedback workshop at the Darmstadt Summer Course Heloisa Amaral is adapting a method for actors and visual artists created by philosopher Karim Bennamar for the DasArts School in Holland. In addition to teaching musicians specific skills on how to give and receive objective and constructive feedback, the workshop will allow participants to present works in progress to open-minded colleagues. In order to get a taste of the widest possible range of feedback strategies and techniques we recommend participants to take part in several sessions throughout the course.
Co-funded by the Creative Europe Program of the European Union Supported by the Ulysses Network