– Diese Veranstaltung hat bereits stattgefunden –
LISTENING TO ARCHIVES WITH PUNGWE


Workshop mit dem afrikanischen Kollektiv Pungwe (Memory Biwa & Robert Machiri)
LIVE AUF ZOOM
—
Mi 04. August 2021, 15:00 – 18:00
Online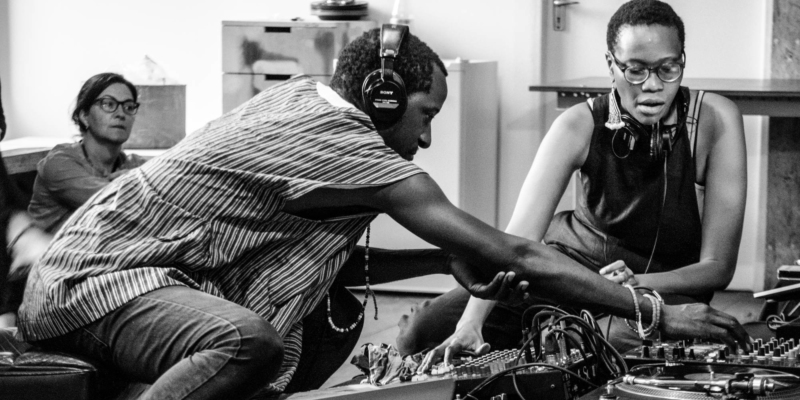 Meeting-ID: 916 0523 9033
15:00 – 16:00 Uhr Lecture-Performance mit Pungwe
16:00 – 17:00 Uhr Listening Session (individuelles Hören, Kopfhörer sind empfohlen)
17:00 – 18:00 Uhr Diskussion
In diesem Online-Workshop wird das Kollektiv Pungwe (Memory Biwa und Robert Machiri) zuerst mit einer Lecture-Performance Einblicke in seine Forschungsarbeit geben. Zusammen widmen wir uns dann Fragen wie: Was ist ein Archiv? Wie können wir uns einem Archiv hörend nähern? Wie könnte man durch die Arbeit mit Klängen eine dekoloniale Sicht auf Archive und die Hierarchien der Wissensproduktion entwickeln?
In englischer Sprache
Veranstaltet in Zusammenarbeit mit den Donaueschinger Musiktagen und dem Berliner Künstlerprogramm des DAAD
Der Workshop ist Teil von "Donaueschingen Global", einem Projekt der Donaueschinger Musiktage 2021 aus Anlass ihres 100-jährigen Bestehens, gefördert durch die Kulturstiftung des Bundes.
Material for Listening Sessions:
PUNGWE
The project Pungwe is an inter-disciplinary project circling African sound with related contemporary arts discourses and spaces. This collaborative practice takes the shape of a participatory public platform hosting alternative music and sound performances. The central ideology draws on active convergence through sound that is commonly linked to a deep spiritual commitment. A gathering of this form was known as Pungwe (Shona word for vigil), during Zimbabwe's armed struggle of colonial resistance. It was mediated through mbira music rituals. Pungwe can be streamed as a commune of people that are "woke", referring to wakefulness as an act of mourning, and morning used adjectivally, anticipating sunrise as an emancipatory symbol.
MEMORY BIWA
Memory Biwa is a historian who lives in Windhoek, Namibia. Her work combines memory, performance, sound studies and archival theory. Her research focuses on narratives and re-enactments of violence and resistance to colonial war and genocide across southern Namibia and Northern Cape, South Africa. Memory's formulation of narratives and performance, as archive, informs notions of subjectivity and the re-centering of alternative epistemologies and imaginaries. Her recent book chapter, "Afterlives of Genocide" appeared in Memory and Genocide: On What Remains and the Possibility of Representation (2017, Ed. by Fazil Moradi, Ralph Buchenhorst, Maria Six-Hohenbalken). Her post-doctoral research on a 1950s sound collection from central Namibia has developed her interests in oral/aural sonority and performative excess. The project has expanded into a collaborative performance project, LISTENING AT PUNGWE, with Robert Machiri, which has seen presentations in Cape Town, Windhoek, Accra and Lausanne. Biwa lectures in the Faculty of Education at the University of Namibia.
ROBERT MACHIRI
Chi aka Chimurengsa (b. 1978, Robert Machiri ) is a Zimbabwean multidisciplinary artist based in Johannesburg. Machiri's work exists at the juncture of two streams of practice: his curatorial concepts and a multi-disciplinary production of artworks. His works draw on de-colonial discourses that are presented through embodied critique, learning and unlearning, interweaving sound, music and image making. His most notable project Pungwe is an inter-disciplinary project circling African soundings with related contemporary arts discourses and spaces. Pungwe has produced collaborative works like Pungwe Nights, Listening to a Listening at Pungwe and Sugar free///Pungwe. His current work is presented through a dialectic between object and subject, with inter-medial experiences of sound and image.