– This event has already taken place –
LISTENING TO ARCHIVES WITH PUNGWE


Workshop with the African collective Pungwe (Memory Biwa & Robert Machiri)
LIVE AUF ZOOM
—
Wed 04 August 2021, 15.00 – 18.00
Online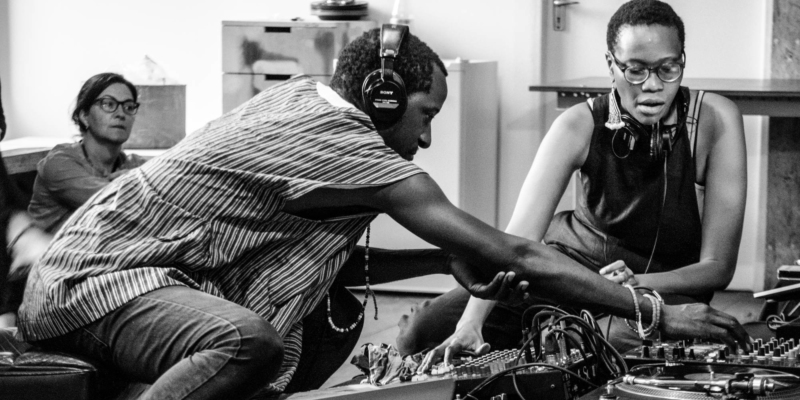 Meeting-ID: 916 0523 9033
15.00 – 16.00 Lecture-performance by Pungwe
16.00 – 17.00 Listening Session (individual listening, headphones recommended)
17.00 – 18.00 Discussion
In this online workshop the collective Pungwe (Memory Biwa and Robert Machiri) will start with a lecture-performance that gives an insight into their research. Together, we will work on questions like: What is an archive? How can we listen to an archive? How can we develop a decolonial perspective on archives and the hierarchies of knowledge production through sound?
In English
Presented in collaboration with Donaueschinger Musiktage and the DAAD Artists-in-Berlin Program

The workshop is part of "Donaueschingen Global", a project by Donaueschinger Musiktage 2021 on the occasion of the festival's centenary, funded by the German Federal Cultural Foundation.
Material for Listening Sessions:
ABOUT PUNGWE
The project Pungwe is an inter-disciplinary project circling African sound with related contemporary arts discourses and spaces. This collaborative practice takes the shape of a participatory public platform hosting alternative music and sound performances. The central ideology draws on active convergence through sound that is commonly linked to a deep spiritual commitment. A gathering of this form was known as Pungwe (Shona word for vigil), during Zimbabwe's armed struggle of colonial resistance. It was mediated through mbira music rituals. Pungwe can be streamed as a commune of people that are "woke", referring to wakefulness as an act of mourning, and morning used adjectivally, anticipating sunrise as an emancipatory symbol.
MEMORY BIWA
Memory Biwa is a historian who lives in Windhoek, Namibia. Her work combines memory, performance, sound studies and archival theory. Her research focuses on narratives and re-enactments of violence and resistance to colonial war and genocide across southern Namibia and Northern Cape, South Africa. Memory's formulation of narratives and performance, as archive, informs notions of subjectivity and the re-centering of alternative epistemologies and imaginaries. Her recent book chapter, "Afterlives of Genocide" appeared in Memory and Genocide: On What Remains and the Possibility of Representation (2017, Ed. by Fazil Moradi, Ralph Buchenhorst, Maria Six-Hohenbalken). Her post-doctoral research on a 1950s sound collection from central Namibia has developed her interests in oral/aural sonority and performative excess. The project has expanded into a collaborative performance project, LISTENING AT PUNGWE, with Robert Machiri, which has seen presentations in Cape Town, Windhoek, Accra and Lausanne. Biwa lectures in the Faculty of Education at the University of Namibia.
ROBERT MACHIRI
Chi aka Chimurengsa (b. 1978, Robert Machiri) is a Zimbabwean multidisciplinary artist based in Johannesburg. Machiri's work exists at the juncture of two streams of practice: his curatorial concepts and a multi-disciplinary production of artworks. His works draw on de-colonial discourses that are presented through embodied critique, learning and unlearning, interweaving sound, music and image making. His most notable project Pungwe is an inter-disciplinary project circling African soundings with related contemporary arts discourses and spaces. Pungwe has produced collaborative works like Pungwe Nights, Listening to a Listening at Pungwe and Sugar free///Pungwe. His current work is presented through a dialectic between object and subject, with inter-medial experiences of sound and image.