– This event has already taken place –
TABLES OF CONTENTS


A project by Tarek Atoui
STREAM / PUBLIC SCREENING (Centralstation)
—
Mon 02 August 2021, 22.00
Online & Public Streaming Centralstation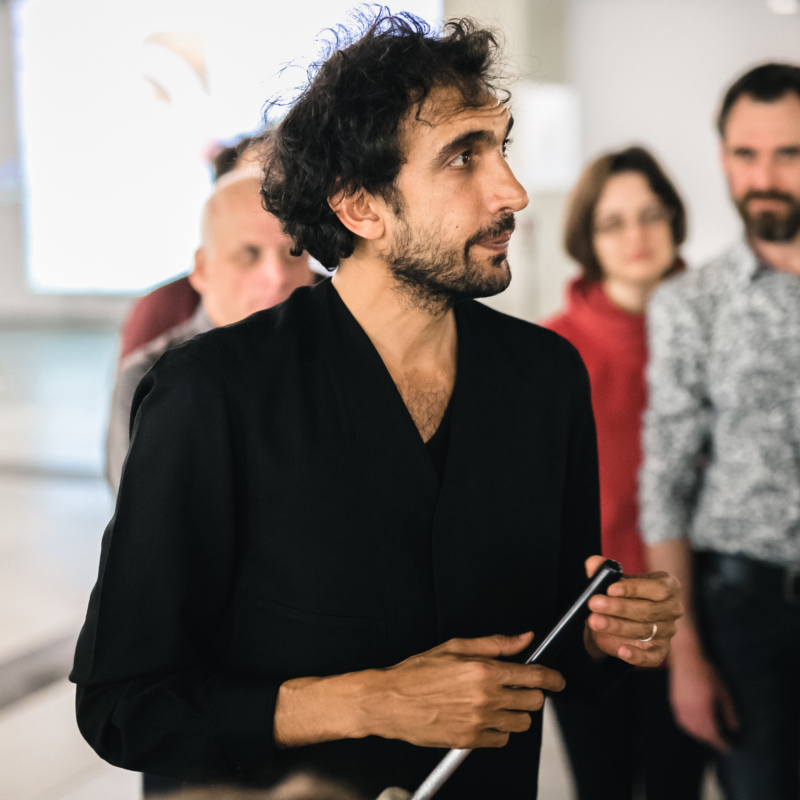 A project by Tarek Atoui, in cooperation with Fridericianum Kassel
We will be showing a series of improvisations during the exhibition "Waters' Witness" at Fridericianum in May 2021 with Alan Affichard, Tarek Atoui, Amélie Legrand and Olaf Pyras.
The artistic practice of Tarek Atoui is hard to define and none of the customary labels appears to be entirely appropriate: experimental electronics and performance, improvisation, instrument building, sculpture, spatial installation, sound art and participation. Essentially, sound and the sounding object are placed at the center of his creative work. Almost all of his works are simultaneously research projects undertaken over many years. The project Within in which the artist has developed instruments in cooperation with hearing-impaired individuals and instrument makers which can be perceived and played by deaf persons has gained particular fame. His instruments are frequently exhibited in museums as sound installations as well as being used in performance.
In 2020/21, the Museum Fridericianum in Kassel staged "Waters' Witness", the first individual exhibition in Germany to be focused on the work of Tarek Atoui, who was born in Beirut in 1980 and now lives in Paris. The exhibition also included the so-called Tables of Contents. This project also centers around participation: it consists of three large tables on which a broad selection of instruments is laid out – derivations from Tarek Atoui's earlier instrumental projects. Several individuals can play simultaneously on these instruments: beginners and professionals, people who can hear and hearing-impaired individuals alike. The objective is joint experimentation alongside communication of the principles underlying this work: induction, sound perception through materials, cyclicity and rotation, air and strings and working with bows.
For many years now, Tarek Atoui has been researching how sound events can be transmitted so that they do not only have an effect on the surrounding environment, but can also be perceived through other sensory organs. Summer Course participants are invited to become familiar with the Tables of Contents in several workshops featuring Alan Affichard and Olaf Pyras.
Funded by the German Federal Cultural Foundation