Printing for Performance


Workshop with Henningham Family Press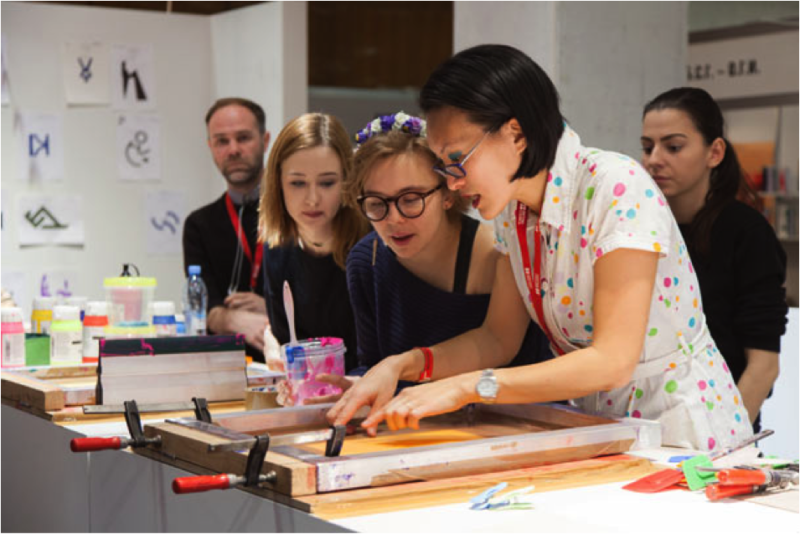 A collaborative screenprinting and bookbinding workshop
Tutors: Henningham Family Press: David & Ping Henningham
Workshop dates: two days tba
Workshop times: 10.00–18.00 on both days
Location: Kunsthalle
Possible number of active participants: 8–12
Open to listeners/spectators: Yes, on the second day.
How to sign up: No selection process, but "first come, first served". Summer course participants will be informed early enough how to sign up.
Participants: Composers, printmakers and performers with an interest in creating unique scores and performances
Prerequisites for participation: None
Tech requirements (to be brought by participants): Participants can bring examples of their own score books and artists' books if they have them. And examples of other people's score/artists' books that have inspired them.
Description
We will invert the traditional process of writing a Score Book to be interpreted by performers. The printed motifs students create will be used to devise a performance, which will in turn suggest the shape of the score book itself. The Print Performance precedes the Score Book, which becomes a trace of the process.
Schedule
Day One: Introduction by David Helbich and tour of the small exhibition on artists' books that is shown parallel to the workshop. Students invent and screenprint simple motifs that will produce actions or sounds. The use of colour, shapes, overprinting… even the elements that we choose are all decided collaboratively.
Day Two – Morning: Students devise a short performance with us using the motifs from day one. Students will be asked to consider how the arrangement of the motifs into sequences and their position in space effects their performance.
Day Two – Afternoon: The motifs are bound into a single Score Book. This will not be a standard binding! The challenge will be to reinterpret the performance to give us the sculptural form of the binding.