Strings & Objects


Workshop Malin Bång & Uli Fussenegger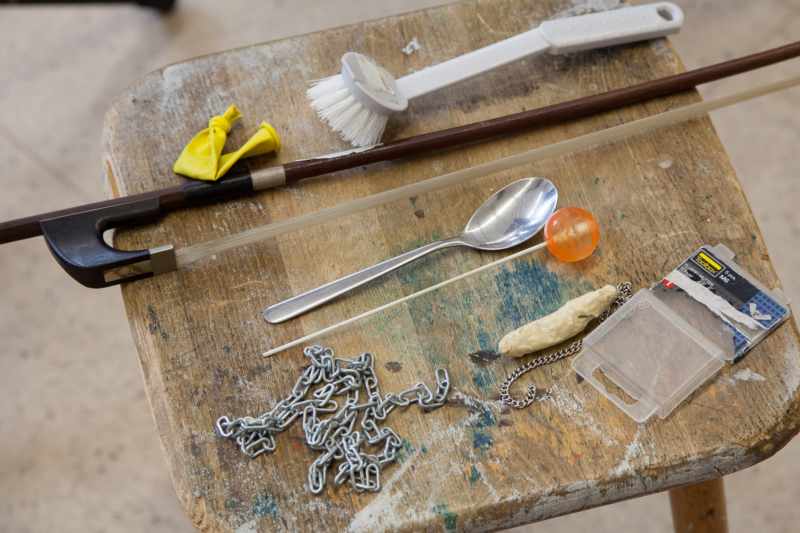 Explorative workshop for string players and acoustic objects
With selection process (Call for concepts & ideas, Deadline: tba)
Tutors: Malin Bång & Uli Fussenegger
Workshop dates: tba
Workshop times: tba (whole day)
Possible number of active participants: 6 groups of 2 or 3 participants in each group (12-18 participants)
Open to listeners: Yes
Participants: Composers and string players with an interest in improvisation and conception (selected from the Call for Concepts & Ideas, Deadline: tba)
Tech requirements (to be brought by participants): acoustic objects
How to apply: tba
Application deadline: tba
Description
We invite creators who are interested in exploring the sonic possibilities in combining string players and acoustic objects through an experimental creation process.
The acoustic object represents the idea that any item can be used to create music. A performance situation involving contrabass and objects invite us to explore the identity of the instrument and the objects, suggesting different modes of association relative to the roles they have in the music, how they are treated to generate sound, and their visual impact.
The acoustic objects can for example be "found objects" that are used in their original state, or modified to generate specific sounds. An object can also be created by gathered materials and constructed according to your own preference and concept. An instrument can also appear as an object when performed in explorative ways.
Performers and composers are invited to participate in this workshop:
as a composer you have the opportunity to collaborate directly with performers and test playing possibilities and sounds. You can also be a performing composer or a composing performer and take the chance to compose for yourself and a collaboration partner.
as a string player or object performer, you wish to collaborate closely with a composer and another performer and explore a material together. You might have earlier experience of objects, for example as a percussionist, but you can also be a musician of any instrument who would like to expand your musical experience by playing objects.
There will be amplification available in our workshop room, with condenser microphones, contact microphones and small, lavalier microphones. Be prepared to bring own equipment in addition to this, if needed. Electronics will not be used in this project – the focus is on the instruments and objects, either acoustic or amplified.
Call for Concepts & Ideas
We ask all applicants to please
submit two current and representative works with score/recording or documentation of two recent performances.
include a short CV and a work list/repertoire list.
describe which mode of participation suits you (composer or performer or composing performer/performing composer).
As a composer: please present your idea of a concept for the duo workshop (up to one page), and include any conceptual input, ideas on sonorities you would like to explore, how you envision the interaction between the instruments or other relevant intentions for this duo constellation. This is only the starting point. Please keep space in your concept for what you might find while experimenting and collaborating in the workshop!
As a performer: please describe your interest in the workshop, and if you have any specific focus or aspect of performance that you would like to explore.
Pieces can be composed before arriving in Darmstadt, with time for fine-tuning and experimentation during the workshop. Pieces can also be created completely during the workshop.
It is planned to perform the pieces or works-in-progress in a final presentation.