Tarek Atoui: Tables of Contents


Workshop series with Alan Affichard and Olaf Pyras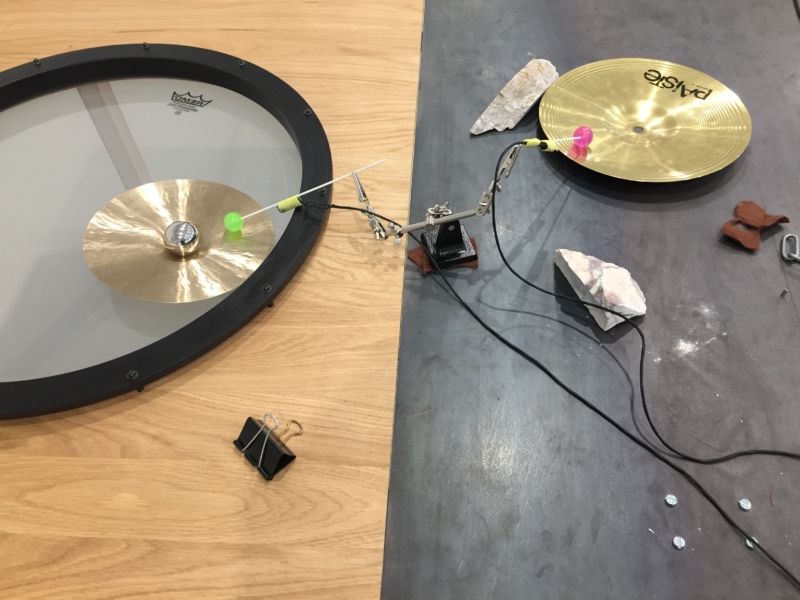 If you are enrolled as instrumentalist for the Summer Course and interested in taking part, please email students@darmstaedter-ferienkurse.de.
The Tables of Contents bring together a range of objects, techniques and instruments that are integral to the sound practice of Tarek Atoui. The four different workshop sessions Transduction / Materiatlity, Cyclisity / Rotation, Wind and Stings / Bows begin with a video conference by Tarek Atoui, followed by an hour of experimentation facilitated by Alan Affichard and Olaf Pyras. After this initial session, participants are encouraged to bring their own instruments, accessories, and objects to utilize on the second day of the workshop. The workshops will be based around these four central topics, participants will be given the opportunity to experiment with a wide range of instruments and techniques.
1. Transduction / Materiality
02.&03.08.2021
In this workshop, transducers will be used to experiment with sound through different materials and mediums. These materials include liquids and solids, filtering sound through mediums with different intrinsic properties to produce different sounds and textures.
2. Cyclicity / Rotation
04.&05.08.2021
Exploration of rotation and means to read surfaces and reinforce the contours of materials and objects.
3. Wind
06.&07.08.2021
In this workshop participants will work with wind as a vector of sound and vibration, utilizing a new instrument inspired by organ pipe mechanisms.
4. Strings / Bows
10.&11.08.2021
This workshop explores objects that can be bowed mechanically as well as magnetically.
The workshop series will end with a final collective performance piece.