10.08.2021 MUSIC IN THE CITY


Presentation of the workshop with Cathy Milliken and David Helbich (Composition), Christian Dierstein and Françoise Rivalland (Percussion), Krassimir Sterev (Accordion), Marcus Weiss (Saxophone)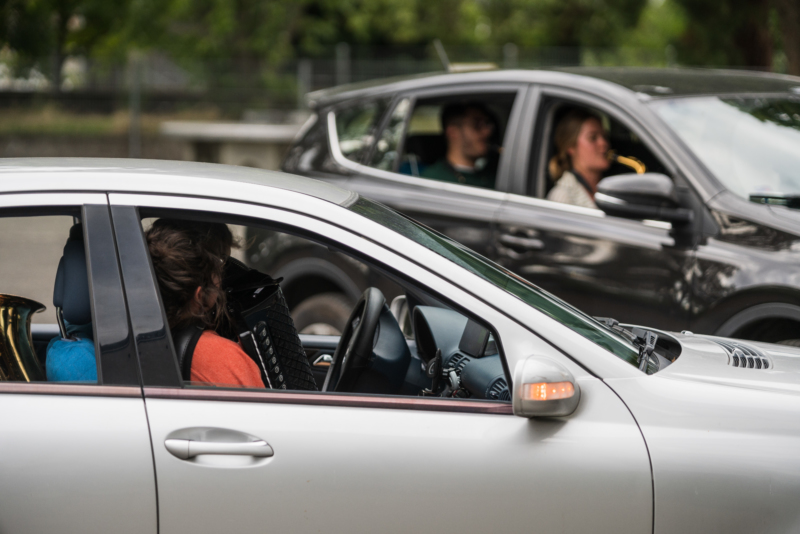 MUSIC IN THE CITY
The title already reveals it: the location of musical action is not the concert hall or stage, but instead the city with its public spaces. The project determines a part of these public areas as a sonic space, picks up musically on characters and design characteristics of urban space, thereby blending urbanity and experimental music to help shape public areas. The MUSIC IN THE CITY concert is the result of a call for composers for open-air works developed collaboratively with percussionists, saxophonists and accordionists. Composers and musicians worked together in order to realize scores and concepts for open-air music. In addition to integrating special sonic features of the chosen performance location, the works also deal with the function and the history of the site. 
Presented every two years by Internationales Musikinstitut Darmstadt (IMD), the Darmstadt Summer Course is an international platform for contemporary and experimental musical practices and composition: it is summer academy, festival and discourse platform at the same time and a meeting point of composers, interpreters, performers, sound artists and scholars.
LOCATIONS
Start: 17.00 at number 1 on the map (Maja Bosnić)
Georg-Büchner-Platz & Wilhelminenplatz, 64283 Darmstadt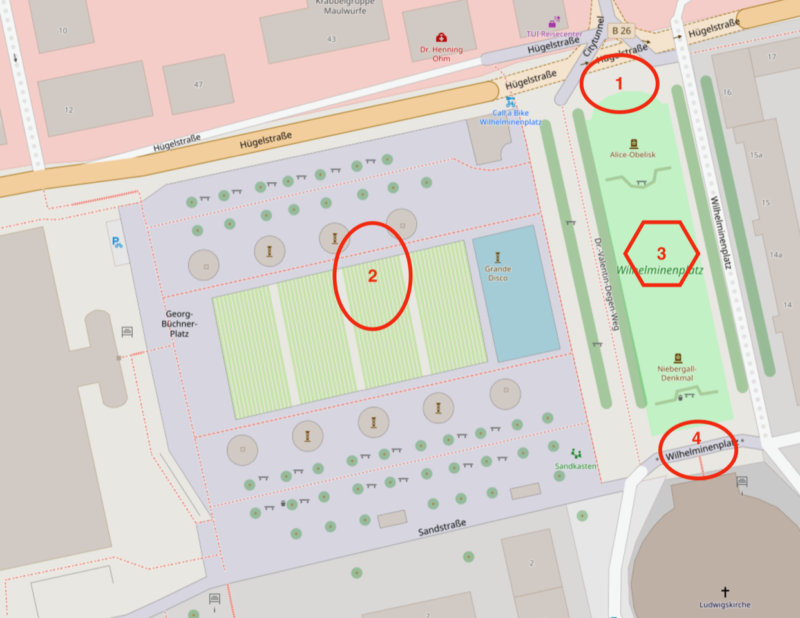 1 – THE Q AND A PIECE
Maja Bosnić: the Q and A piece (2021) World Premiere – 12'
for ensemble, bicycle, two cars and a participating audience in a public space
Alberto Cavallaro (Alto Saxophone), Alejandro Fenollosa Beltrán (Baritone Saxophone), Kathrine Kirkeng Oseid (Baritone Saxophone), Timothée de la Morinerie (Percussion: Bicycle), Mikołaj Rytowski (Percussion: Car), Tomek Szczepaniak (Percussion: Auto / Percussion: Car), Darja Goldberg (Accordion), Aleksandar Popović (Accordion), Carlo Sampaolesi (Accordion)
the Q and A piece is based around common situations, sounds and reactions that belong to everyday city life, and are created ad hoc by a group of semi-random citizens – in this case: musicians and audience. The audience is joining musicians in creating sounds, using their voice, hands and feet, on their own, by following easy video instructions on their devices. Questions that are being asked create a directed murmur of random words and numbers, spoken all at once. Sound materials in the work fluctuate between completely unified and synchronized gestures on one hand, as well as completely independent, random and scattered sounds at other times. It is a showcase of all possible different ways of interpretation and understanding of a single simple action by everyone involved. Showing that no two humans react or think identically, it celebrates beautiful varieties of life surrounded by differences that cities truly nurture.
Feel free to come closer and move around during the performance!
Maja Bosnić
Please scan this QR code before beginning to follow your instructions:
BIOGRAPHY
Maja Bosnić is a composer from Belgrade/Serbia who is interested in working in unfamiliar settings. She is drawn to impossible missions, absurd solutions, limited material, playfulness, uncertain outcomes, treating instruments as ready-made objects of expression and treating real life objects as music instruments.
2 – EAR CRUMBS
Elizabeth Jigalin: ear crumbs (2021) World Premiere – 12'
open air music for saxophone, accordion and percussion
Marta Tiesenga (Saxophone), Manca Dornik (Accordion), Gian Marco Medda (Percussion)
dear treasured listeners,
ear crumbs is a simmering soup of 378 postcard sized scores of notations, observations, actions and translations. each score is an intimate invitation for music in the open air. throughout the summer course, i have been
creating and iterating a subset of these scores in dialogue with the musicians to develop today's performance for you:
part one: clearing the ear – the musicians are a sculptural listening organism…
part two: playgrounds – the musicians get busy with scores!!!
i write this from my messy, score crumb covered desk in sydney/australia, and i am sad to not be there in darmstadt with you. however, i am grateful to the tutors and musicians for their efforts in allowing me to participate, learn, experience darmstadt virtually and to create this work. 
thank you for your ears!
elizabeth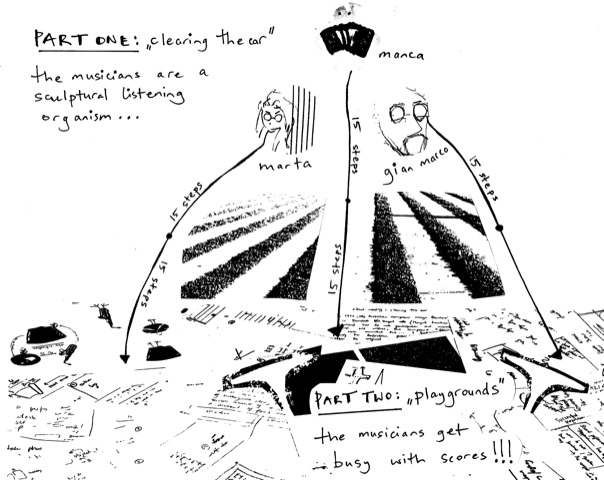 BIOGRAPHY
Elizabeth Jigalin is a composer who loves to build curious worlds of sound and work with others to collage elements of music, play, theater, media and the everyday.
3 – PAVILION (EXCAVATION)
Samuel Johnstone: Pavilion (Excavation) (2021) World Premiere – 11'
A summer pavilion for Darmstadt, created through sound
Anouk Neyens (Soprano Saxophone), Pantelis Likoudis (Alto Saxophone), Shiau-Shiuan Hung, Chuang Ying-Chen, Santiago Villar Martín (Percussion), Cong Li (Accordion), Daniel Sclafani, Junhao Tong (Performer with Microphone)
Eight musicians become an archeological team on an excavation site, looking for traces of lost structures in the city. Somewhere not far from here, a pavilion used to stand – the Ludwigstempel. Traces of this pavilion still remain beneath the surface. So, too, do the sounds and memories of a city that has remained under construction for the last 70 years.
For a fleeting moment, these lost structures and sonic memories of Darmstadt will be excavated from the ground and translated into resonances in the air.
Samuel Johnstone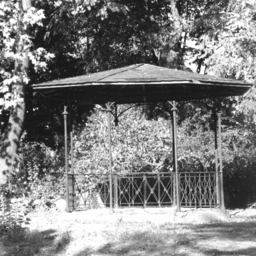 BIOGRAPHY
Samuel Johnstone is studying for a Master in Composition at the Hochschule für Musik in Dresden. In his works, he is interested in the relationship between sound and the objects, environments and humans that create it.
THE Q AND A PIECE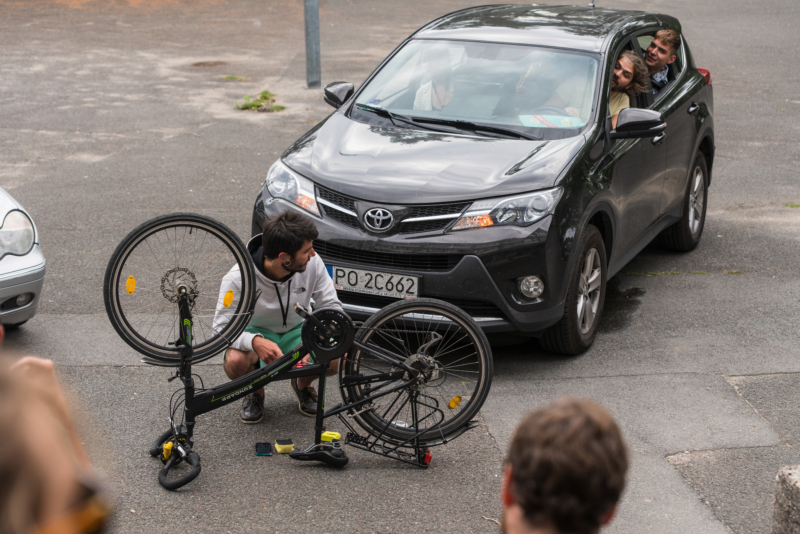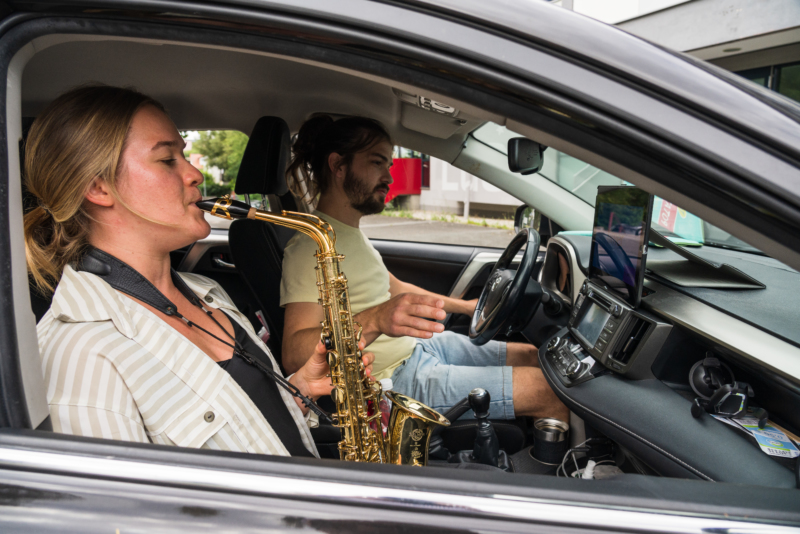 4 – PULSATING SKIN
Justina Repečkaitė: Pulsating skin (2021) World Premiere – 13'
for four snare drums and live electronics
Corentin Barro, Romane Bouffioux, Pablo Mena, Federico Tramontana (Percussion)
Four snare drums have transducers – small loud-speakers that transmits sound towards the interior of the instrument, attached to their skin. Sound is being sent to drums that act like resonating bodies manipulated by human touch. These harmonies are inspired by the physical models, the resonance of a circular membrane tuned to a snare drum frequency. Performers illuminate the sounds they are hearing (and feeling!) with no score to follow. The pulses that guide musicians are created from a superposition of slightly different frequencies as the sound alternately interfere constructively and destructively thus creating pulsation (beats). Snare drums radiate mechanical pulses characteristic to the city combined with allusions to the nature still present in urban surroundings.
Justina Repečkaitė

BIOGRAPHY
Justina Repečkaitė is a Lithuanian composer based in Paris where she studied at IRCAM (Institute of Research and Coordination in Acoustics/Music). Her music is compared to a "diamond" and "drawn with the sharpest pencil".
© ️Kristof Lemp
© ️OpenStreetMap contributors
© ️Elizabeth Jigalin
© ️Elizabeth Jigalin
© ️Kristof Lemp
© ️Kristof Lemp
© ️OpenStreetMap contributors
© ️Elizabeth Jigalin
© ️Elizabeth Jigalin
© ️Kristof Lemp
© ️Kristof Lemp