SONIC WRITING & SOUNDINGS (WORKSHOP)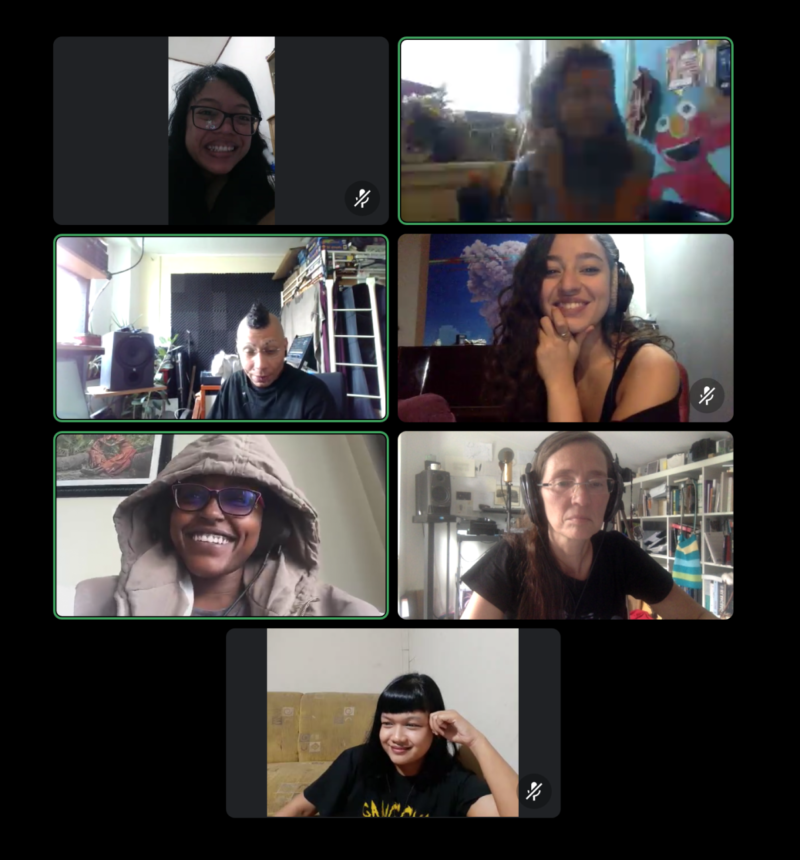 ABOUT THE PROJECT
Antye Greie-Ripatti and Cedrik Fermont curated the residence program Sonic Writing & Soundings, that happened in cooperation with Goethe-Institut, for which they invited six artists: Asma Ghanem (شمس أسمى) (Palestine), Linda Mudimba (Zimbabwe), the duo Sarana (Indonesia), Farzané (Iran) and [MONRHEA] (Kenya). The residence program took place online within the Summer Course time (01 – 11 August 2021). Read more about the project here.
AUDIOVISUAL BIOS
The participants, as well as AGF & C-Drík, created Audiovisual Bios about themselves!
Find them here! More info on the artists in their profiles (linked at the bottom of this page).
SOME IMPRESSIONS FROM THE WORKSHOP
Meeting in different timezones, from Chicago to Simbaabwer to Finland to Teheran to Indonesia…
THE INITIAL FIELDRECORDINGS
Each one of the artists threw in a fieldrecording from their local environment. These recordings were thrown in a shared file pool and then edited, remixed and transformed by the others, until they found their results in three collectively composed sound pieces. The recordings, as well as the resulting pieces, dealt with questions around identity, landscape, ecology and de-colonialization.
Listen to a selection of them here: