TOUCHING SOUNDS


Electroacoustic listening situations in public space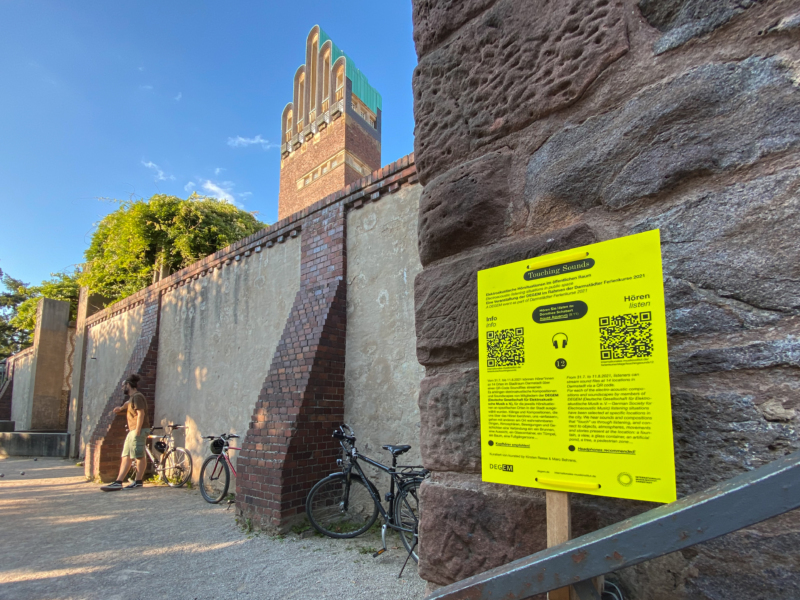 A project by DEGEM at the Darmstadt Summer Course
Curated by Kirsten Reese and Marc Behrens
From 31 July to 11 August 2021, listeners could stream a composed sound file for site-specific listening situations at 14 locations in Darmstadt via a QR code. Although the yellow signs with the QR codes had to be removed, you can still listen to the works on this website by following the links below or even navigate to the locations and listen on place if you are in Darmstadt. For each of the electro-acoustic compositions and soundscapes by members of DEGEM (Deutsche Gesellschaft für Elektroakustische Musik e. V. – German Society for Electroacoustic Music) listening situations have been selected at specific locations in the city. We hear sounds and compositions that "touch" us through listening, and connect to objects, atmospheres, movements and stories present at the location: a fountain, a view, a glass container, an artificial pond, a tree, a pedestrian zone …
Ecological soundscapes, distant sound sceneries or abstract electronic sound compositions are transposed into an urban reality – they connect with the visual, acoustic and atmospheric characteristics of the locations.
When frogs and cicadas from the Amazon, or synthesized electronic "animal calls" resound at the somewhat neglected Herrngarten pond; when clicking electronic sound frequencies rotate through the headphones at a glass container, meeting with the movements of cars, bicycles and pedestrians at an intersection; when sounds of diverse watercourses are installed at the fountain on Mathildenhöhe; when an electro-acoustic piece of music about the experience of isolation during the Corona lockdowns is heard in an undercrossing teeming with graffiti; when electronic chords mix with the noise of an aeroplane visible in the sky for miles around – then the interplay of sound and place creates its own perceptual and content-related associations in the listeners.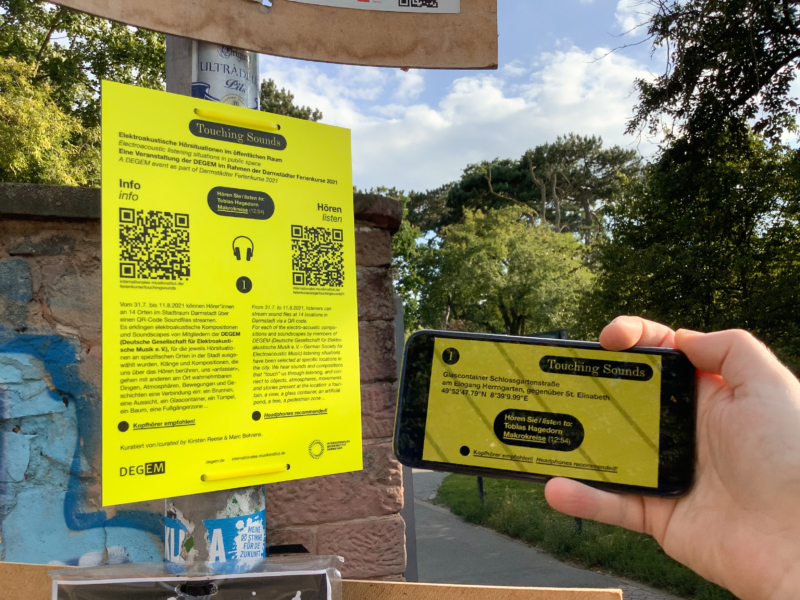 The listening spots are located on a route from west to east (from Herrngarten to Park Rosenhöhe).
Headphones recommended!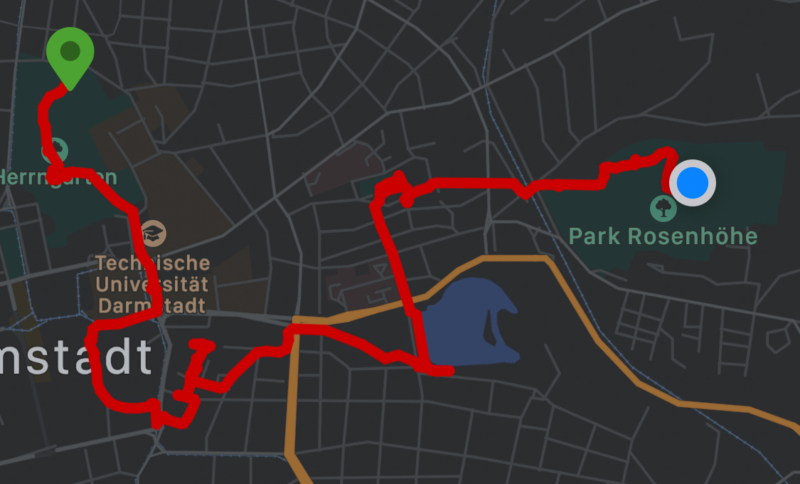 Herrngarten Pavillon
→ 49°52'36.60″N 8°39'9.95″E
→ Google Maps
Darmbach next to Darmstadtium
→ 49°52'25.42″N 8°39'23.63″E
→ Google Maps
Pedestrian precinct Ernst-Ludwig-Straße
→ 49°52'19.47″N 8°39'13.95″E
→ Google Maps
Kaplaneigasse, Public Library
→ 49°52'18.87″N 8°39'30.45″E
→ Google Maps
Großer Woog, Fence Heinrich-Fuhr-Straße/Ostparkweg
→ 49°52'17.68″N 8°40'8.74″E
→ Google Maps
Mathildenhöhe, Schwanentempel
→ 49°52'34.53″N 8°40'2.26″E
→ Google Maps
Mathildenhöhe, Fountain at Platanenhain
→ 49°52'36.78″N 8°40'1.23″E
→ Google Maps
Mathildenhöhe, Vista at Platanenhain
→ 49°52'35.58″N 8°39'55.08″E
→ Google Maps
Park Rosenhöhe, Copper beech
→ 49°52'38.34″N 8°40'37.48″E
→ Google Maps
Park Rosenhöhe, Ludwig-Engel-Weg, between Rosarium and herb garden
→ 49°52'35.69″N 8°40'46.02″E
→ Google Maps