Felipe Lara


Composer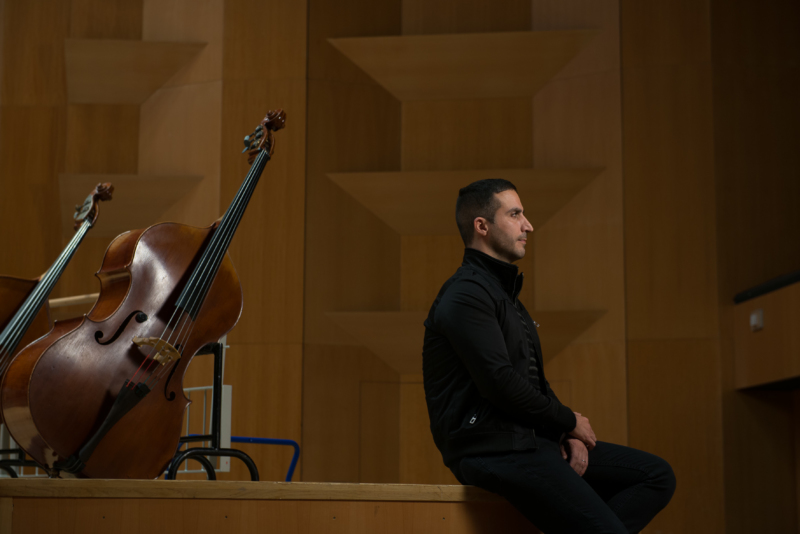 Born in 1979 in São Paulo/Brazil. Praised by the New York Times as "a gifted Brazilian-American modernist" whose works are "brilliantly realized", "technically formidable, wildly varied", and possess "voluptuous, elemental lyricism", Felipe Lara's work – which includes orchestral, chamber, vocal, film, electroacoustic and popular music – engages in producing new musical contexts by means of (re-)interpreting and translating acoustical and extra-musical properties of familiar source sonorities into project-specific forces. He often aspires to create self-similar relationships between the macro- and micro-articulation of the musical experience and highlights the interdependence of acoustic music composition and technology, including the application of electroacoustic paradigms as catalysts for both entire structures and local textures.
His music has been recently commissioned by leading soloists, ensembles and institutions such as the Arditti Quartet (with SWR Experimentalstudio Freiburg), Brentano Quartet (with Hsin-Yung Huang), Claire Chase, Conrad Tao, Donaueschinger Musiktage, Duo Diorama, Ensemble Intercontemporain, Ensemble Modern, Helsinki Philharmonic Orchestra, International Contemporary Ensemble, Los Angeles Philharmonic, Ogni Suono, Rebekah Heller and São Paulo Symphony Orchestra (Osesp), and also performed by the Amazonas Philharmonic, Asasello Quartet, ensemble recherche, David Fulmer, Ex Novo Ensemble, Ilan Volkov, JACK Quartet, Kammerensemble Neue Musik Berlin, Mivos Quartet, Netherlands Radio Chamber Philharmonic Hilversum, Nouvel Ensemble Moderne, Peter Eötvös, Steven Schick and the Tanglewood Music Center Orchestra.
The recipient of a 2015 Radcliffe Institute for Advanced Study Fellowship, from Harvard University, he has been awarded an invitational fellowship from the Civitella Ranieri Foundation (2014), Composition Prize from Funarte (Brazilian Ministry of Culture, 2014), Master Artist Award from the National Association of Latino Arts and Culture (2013), Kanter/Mivos String Quartet Prize (2011), Staubach Prize from IMD (Darmstadt, 2008), Dal Niente International Call-for- Scores, First Prize in Orchestra Composition from the Biennial for Brazilian Contemporary Music (2005), as well as commissions from the Fromm Music Foundation at Harvard University (2011) and the Koussevitzky Music Foundation at Library of Congress (2016). He was also a finalist for the 2014 Rolex Mentor and Protégé Arts Initiative (Geneva).
He holds a PhD in Music Composition from New York University (Graduate Scholl of Arts and Science) where he was a Henry M. MacCracken Fellow, a Masters from Tufts University and a Bachelors degree from Berklee College of Music. His main teachers were Louis Karchin, Tristan Murail, Mario Davidovsky, John McDonald, Vuk Kulenovic and Alla Elana Cohen.
Having previously taught at New York University's Faculty of Arts and Science, he has been Visiting Lecturer at Federal University of Bahia (Salvador/Brazil), Visiting Faculty, Lecturer on Music, at Harvard's Department of Music (2016/19), where he was awarded a Harvard Excellence in Teaching Award (2017). Lara is currently Assistant Professor at Johns Hopkins University's Peabody Institute.