Wolfgang Rihm in Darmstadt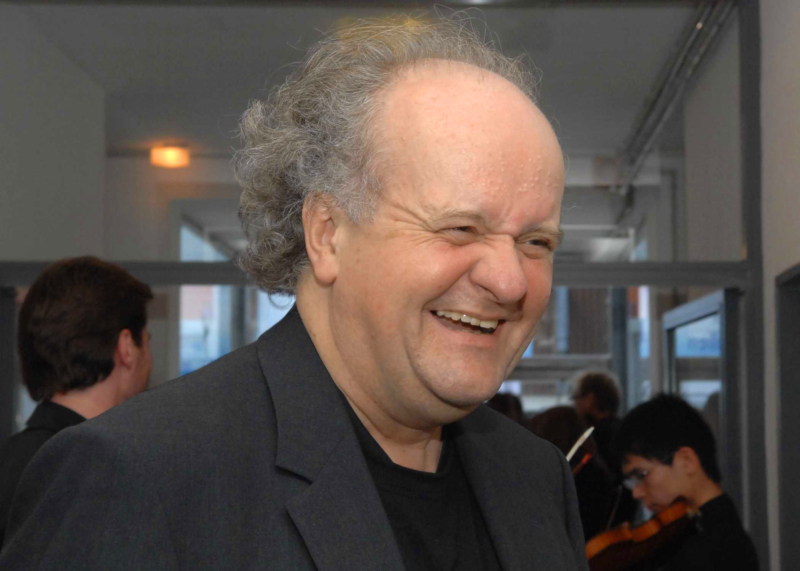 Without any doubt Wolfgang Rihm can be viewed as one of the most important, most played, most listened to and most discussed composers of our time. Rihm's oeuvre today comprises more than 500 works, and on March 13 in 2022, this exceptional artist celebrated his 70th birthday. On this occasion, we are looking into the IMD archive to review his time at the Darmstadt Summer Course, which began 52 years ago.
In 1970, the year in which the Summer Course floundered in the post-68 turmoil and subsequently changed from an annual to a biennial event rhythm, Wolfgang Rihm came to Darmstadt for the first time as a participant at the young age of 18. His hometown of Karlsruhe made it possible for him to participate with a scholarship. After that he came to Darmstadt four more times as a participant, but already stood out at his second participation in 1972 with the cello piece Grat, which had just been premiered. In 1974 the pianist Cristian Petrescu then presented the first of several world premieres of Rihm's works in Darmstadt: Klavierstück Nr. 4 had its premiere on August 6, 1974 in Studio Concert IV at the Georg Büchner School. Rihm's early Darmstadt years in particular are emblematic of the composer's astonishing career. In 1978, at the age of just 26, he presented his weighty, hour-long Musik für drei Streicher (Music for Three Strings), gave the programmatic and often-cited lecture "Der geschockte Komponist" ("The Shocked Composer"), and was awarded the Kranichstein Music Prize at the end of the Summer Course. The free-spirit that Wolfgang Rihm already was at that time caused a sensation. For unlike many before him, Rihm once again confidently stood by subjective compositional decisions and pleaded for freedom from constricting musical systems.
When Rihm returned to Darmstadt in 1980, he was no longer a participant, but from then on a lecturer at the Summer Courses: he took over a composition course and coordinated the composition studios. In 1982, together with Helmut Lachenmann, who was 17 years older, he gave a seminar entitled "Composers' Dialogue Helmut Lachenmann – Wolfgang Rihm". The different aesthetic positions of the two were clearly formulated. Rihm remembers, however, "that we always tried to enrich the other's position through our own understanding and not just to trump it." Until 1990, Rihm was a guest at every Summer Course edition in Darmstadt, then – not least due to a lack of time during the summer weeks – repeatedly took breaks, but returned just as regularly. In 2002, 2004 and 2008, 13 works were presented in larger event blocks, very recent ones from the beginning of the 2000s, somewhat more distant ones from the 1990s, but also again the great Music for Three Strings with trio recherche, most recently in 2016, when the series "Rückspiegel" looked back on 70 years of Summer Course history. Now that Wolfgang Rihm is celebrating his 70th birthday, he is without question an important part of the Darmstadt history, yesterday as well as today. We congratulate him very warmly!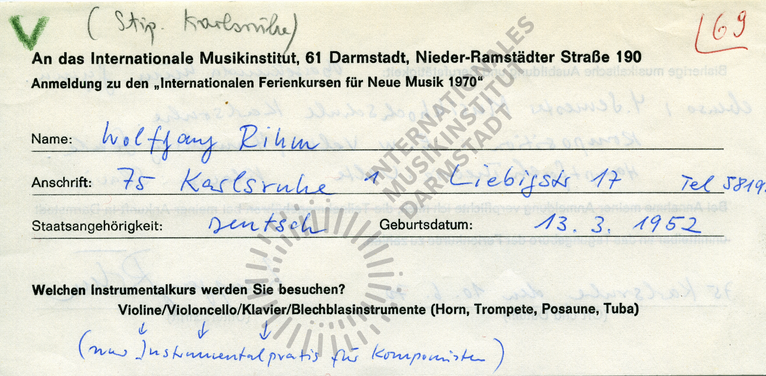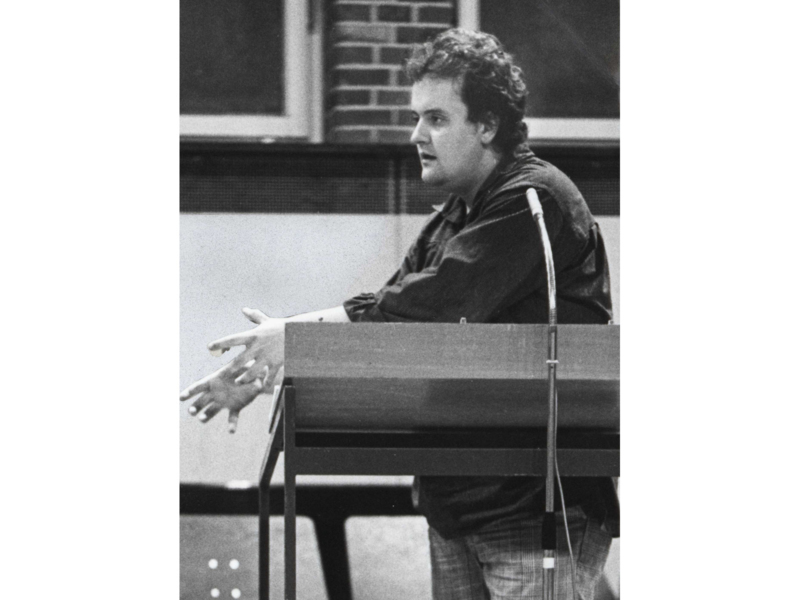 "Music was thought in melodies, in spaces, in surfaces, we try to think it in layers. But we don't think from inside the layers, we think on the layers, we drift towards them. In order to think from within, we ourselves would have to be present in each layer. That would be imagination: self division and then our choral voice… The musical space is present in layers, our composing consists in moving these layers in relation to each other. Each layer has its own atmosphere, in which its own aggregate state of music is possible. This results in a variety of phenomena that we recognize as the essence of music. So it is precisely the essence and appearances of music that interest us today and from which we draw compositional conclusions. Boulez once wrote, paraphrasing Rougier, "…we do not start from 'beings and appearances' of music, but think of it in 'terms that point to relations and functions.'" At least as a theoretical approach, this forms the fundamental antithesis of our way of thinking. Music is not capable of concepts. Nor can we define it by concepts, let alone think of it in terms of concepts, which is nothing other than composing with its postulated concepts. An absurd act: impossibility of definition is definition. But then, Boulez is not concerned with definition, but with compositional method. By a minor operation we can establish a strong relation to our way of thinking. Let's just replace "concept" by "gestalt". Because: music is capable of shaping in a strong measure. Its possibility to formulate time, space and moment plastically and to compose with its gestalts is favored exactly by its conceptlessness. Because music is unbound, it can only fill spaces: a concert hall as well as the individual soul." (Wolfgang Rihm: Der geschockte Komponist, Lecture st the Darmstadt Summer Course 1978; excerpt, translated with deepl.com)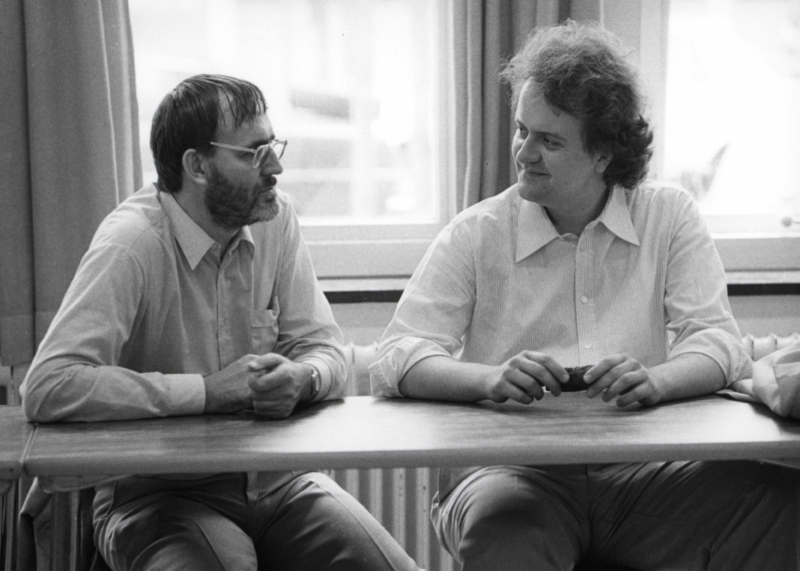 "But I am not looking for sophistication in sound. I am looking for the rumbling in the sound. Actually, I am looking for a much less beautiful sound than you have. With the noisiness of your sonority, a much more beautiful sound actually arises than with the formal, banal philharmonic situation with me, driven into fortissimo." (Wolfgang Rihm to Helmut Lachenmann in the seminar 1982, Discussion about the term "structure", B016240187)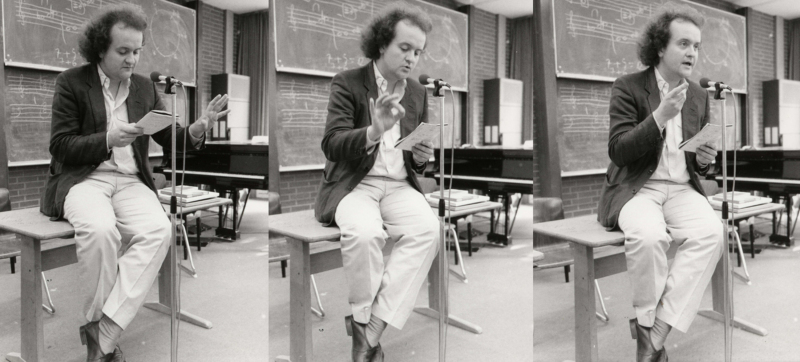 "Are there mistakes in art? Actually, music cannot be 'wrong': For even the violation of rules within an accepted syntactic method strategy is a moment of truth, and even possible potential for growth. Through mutation often more arises than through construction (…)." (from the lecture "Neotonalität?" 1984, part 2, B016493559)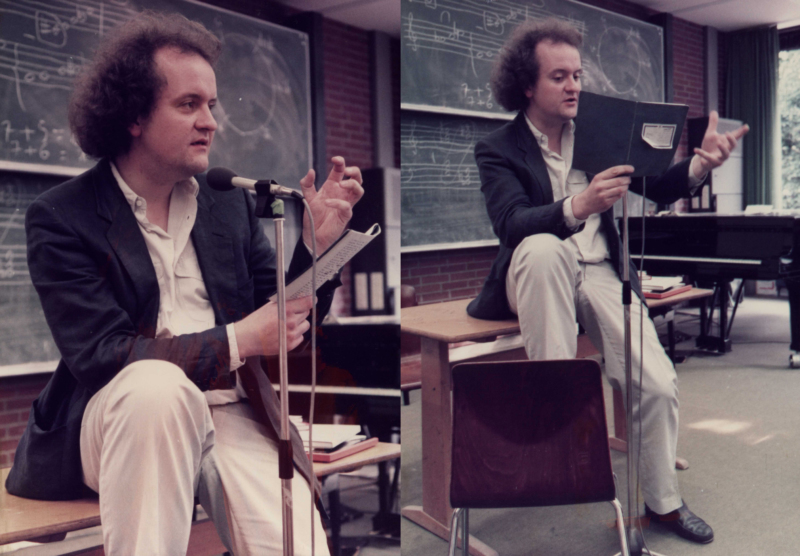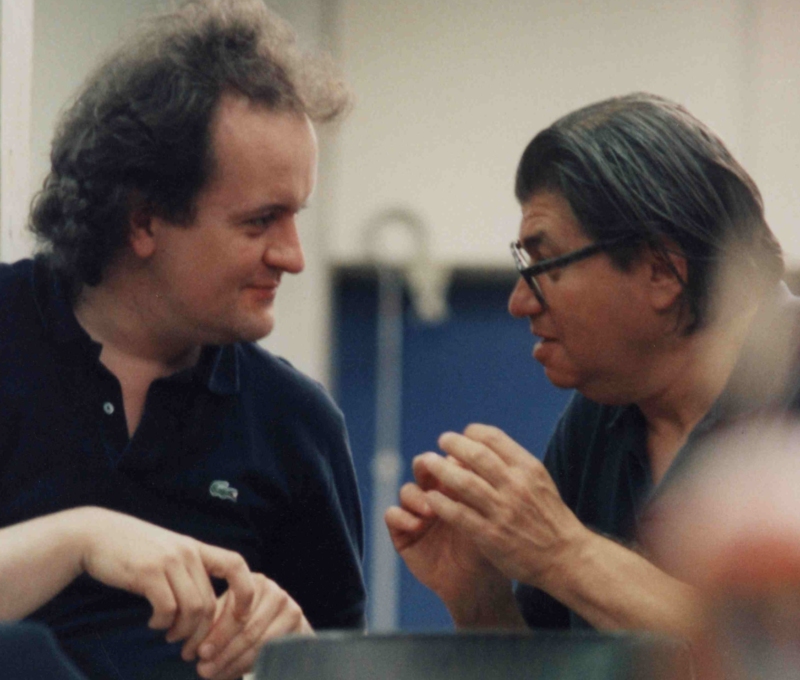 "I don't want to contribute to a mythologization now, which was not carried out by me at all. When I already hear: heroic Darmstadt. That was never heroic! It was a meeting place of craftsmen who talked openly about building secrets. There was no heroic Darmstadt. If heroes are – where would be the monsters they fight? Where would the dragons be? They were either all dead already, or not there at all. Of course, you can play hero by taking a wooden sword and fighting shadows. So, I wasn't put in that situation. I was and always have been happy to come to Darmstadt to hear something, to learn something, to experience something I didn't know, and maybe also to meet people who are in the same situation as me and draw their own conclusions. That's what mattered to me, to draw my own conclusions, after all, that's what I wanted myself, and with time I already noticed that this drawing my own conclusions is the real problem. Because it was certainly expected from the hero side that one would not even draw one's own conclusions, but that one would march in directions that were already predetermined, and I did not do that – not out of heroism, but because I was simply not made for that. Out of inability. Let's put it this way: I couldn't break out into followers because I'm not gifted for it. I can't be somebody's follower, that's how I've always felt, or belong to some direction, I have to bring it forth myself." (Wolfgang Rihm in conversation with Jürgen Otten, translated with deepl.com)

"I believe that Darmstadt today is still the place where young composers from all over the world meet to exchange experiences, and not only to exchange virtual experiences, which they could do at home on their computers at any time, but that they meet the people themselves and are placed in situations where their pieces are also played, that is: can work with interpreters. The biggest problem for young composers – and I'm speaking now as a teacher – is still performing, playing, translating scores into reality. To make it logistically possible and to make it possible at all. (…) In Darmstadt there are interpreters who can do it, and why should that be any different than in the past: young composers bring their projects, their works, put them up against each other, present them to each other and experience them in the seriousness of being interpreted, and can certainly compare interpretations. That is the meaning of Darmstadt, still. Everything else are meanings that the participants themselves give to the event, and it may well be that in the 50s and 60s it was very important for the organizers to have the feeling. (…) I was at the event where the navel of my (small) world is, and where I am told how to move in it. The readiness to acknowledge leadership, to accept leadership, and to take orders was perhaps sunk deeper into people in the 50s and in the 60s than it could have been in the time in which now we have grown up or thick, namely after 68. The willingness to obey a leader. And therefore, all these stories that ultimately say nothing other than: Yes, yes, there were already claims to interpretive sovereignty, but there were also many who were to be interpreted according to their own will, who liked to be told: look left, look right, now straight ahead, three steps forward, now back, here is progress, go on!" (Wolfgang Rihm in conversation with Jürgen Otten, translated with deepl.com)