Elaine Mitchener
Voice Tutor & singer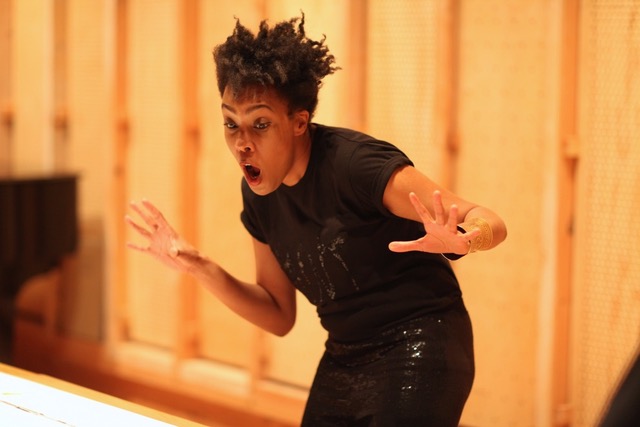 Elaine Mitchener is an experimental vocalist, movement artist and composer, whose work encompasses improvisation, contemporary music theatre and performance art.
Born in East London to Jamaican parents, Elaine studied voice at Trinity College of Music, London and currently studies with Jacqueline Bremar.
She has performed at numerous UK and European festivals, venues and galleries including Aldeburgh Music, London Contemporary Music Festival (LCMF), 56th Venice Biennale, Wysing Arts, Café Oto (London), Bluecoat (Liverpool), SAVVY Contemporary (Berlin), Purcell Room (Southbank Centre, London), Huddersfield Contemporary Music Festival, ULTIMA Festival (Oslo), OCCUPY (St John's Smith Square), SPILL Festival (Ipswich), La Monnaie (Brussels), Block Universe (London), White Cube (London), Whitechapel Gallery (London), Weserburg MOMA (Bremen), Wellcome Collection (London), and the Institute of Contemporary Arts (London).
She has worked and performed in a wide variety of contexts with an array of leading musicians, composers, directors and visual artists including Moor Mother (Camae Ayewa), Mark Padmore, The Otolith Group, Deborah Warner, Christian Marclay, Apartment House, Steve Beresford, Pat Thomas, Irvine Arditti, Sonia Boyce, London Sinfonietta, John Butcher,Tansy Davies, George. E. Lewis, Attila Csihar, Rolf Hind, Dam Van Huynh, Lore Lixenberg, George Lewis, Alexander Hawkins, Sam Belinfante, Phil Minton, Evan Parker, Alasdair Roberts, Lucy Bailey, David Toop, Netia Jones, Matt Wright, and Jason Yarde.
Elaine is co-founder of the experimental jazz quartet the Hawkins/Mitchener Quartet and a regular vocalist with the ensemble Apartment House.  She created the role of Hannah/Voice singing with tenor Mark Padmore, in the opera CAVE, by composer Tansy Davies with libretto by Nick Drake, co-commissioned by the London Sinfonietta / Royal Opera House and directed by Lucy Bailey which premiered in June 2018.
Her production company Elaine Mitchener Projects has researched, developed, produced and toured or staged a number of projects including Industrialising Intimacy (with choreographer Dam Van Huynh, David Toop, George Lewis); The Nude Voice (with Dam Van Huynh) commissioned for the Wellcome Collection London's THIS IS A VOICE exhibition; 'I back… I neck… I face… I chest'  commissioned by Sonia Boyce for her installation We Move In Her Way at London's ICA; Of Leonardo da Vinci (with Dam Van Huynh, David Toop, Barry Lewis) for Oslo's ULTIMA Festival; the three hour durational performance [NAMES] premiered at Ipswich's SPILL Festival; a presentation of John Cage's SongBooks for London's Poetry In The City Festival; Vocal Classics of the Black Avantgarde for LCMF; and SWEET TOOTH in partnership with Bluecoat Liverpool, Stuart Hall Foundation and the International Slavery Museum. Premiered in Nov 2017, SWEET TOOTH has been described as 'a vital black British addition to those seminal creative statements of resistance and defiance from the African Diaspora', and was subsequently broadcast on BBC Radio 3's Hear and Now programme (Dec 2017).
Elaine has participated in residencies and symposiums including Aldeburgh Music (to develop SWEET TOOTH) and Fondazione Claudio Buziol, Venice (where she developed Of Leonardo Da Vinci supported by Muziektheater Transparant) and New Resonances organised by Theatrum Mundi.
Elaine Mitchener is currently fellow of the DAAD Artists-in-Berlin Program.