Yaron Deutsch


Guitar & E-Guitar Tutor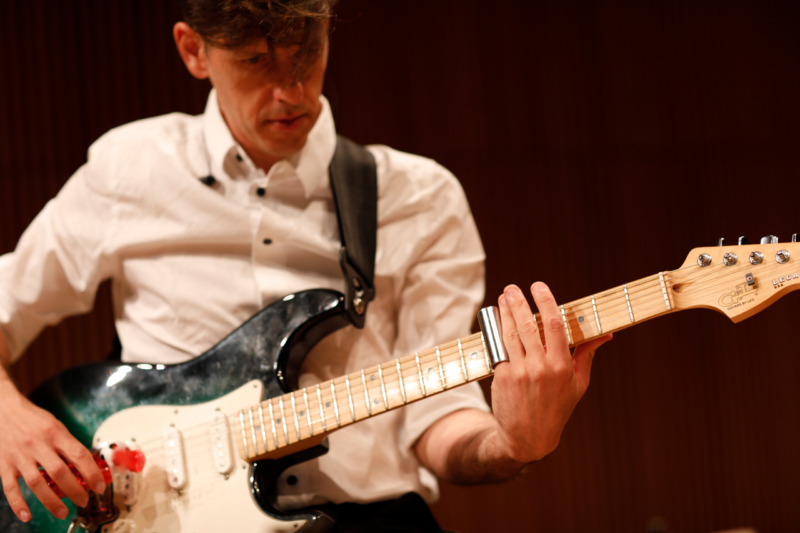 Born in 1978 in Tel Aviv, guitar explorer Yaron Deutsch is mainly known for his work in the field of contemporary (classical) music. He is the founder and artistic director of the chamber quartet NIKEL and is a frequent guest at the acclaimed Klangforum Wien Ensemble.
Occasional appearances – as soloist or attending member – he had with numerous international ensembles and orchestras such as: Ensemble Court-circuit (Paris), Ensemble Ictus (Brussels), Ensemble Musikfabrik (Cologne), Talea Ensemble (New York), Berner Symphonieorchester, Israel Philharmonic Orchestra, Orchestra Sinfonica Nazionale della Rai (Turin), Radio-Symphonieorchester Wien, Symphonieorchester des Bayerischen Rundfunks, Los Angeles Philharmonic, SWR Symphonieorchester and the Luzerner Sinfonieorchester in which he played under conductors: Sylvain Camberling, Titus Engel, Peter Eötvös, Johannes Kalitzke, Mirga Gražinytė-Tyla, Zubin Mehta, Emilio Pomàrico and Ilan Volkov among others.
His search of inhabiting the guitar in different contexts led him on one hand to experimental/improv scenarios (a main feature in his playing is his Jazz background no less then teenage roots in the 70's-80's virtuoso guitar era) where he regularly collaborates with composer/improviser Stefan Prins (Ministry of Bad Decisions / NOT I), Double Bassist Uli Fussenegger (Synthetic Skin / Alone Together) and accordionist Krassimir Sterev, while on the other end, take roles in contemporary opera productions at the Basel Opera, Deuthsche Oper Berlin or Opera Ballet Vlannderen to name a few.
Recordings featuring his playing are available on Col Legno, Kairos, Neos, Sub Rosa and Wergo labels.
Apart from his performative activities, he is the guitar class tutor at the prestigious Darmstadt International Summer Courses for New Music. Since 2010 he is the the curator of "Tzlil Meudcan" (In Hebrew: "Updated Tone") – The International Festival for Contemporary Music, Tel Aviv – Israel.