Klavier
Studio Nicolas Hodges und Workshop Rei Nakamura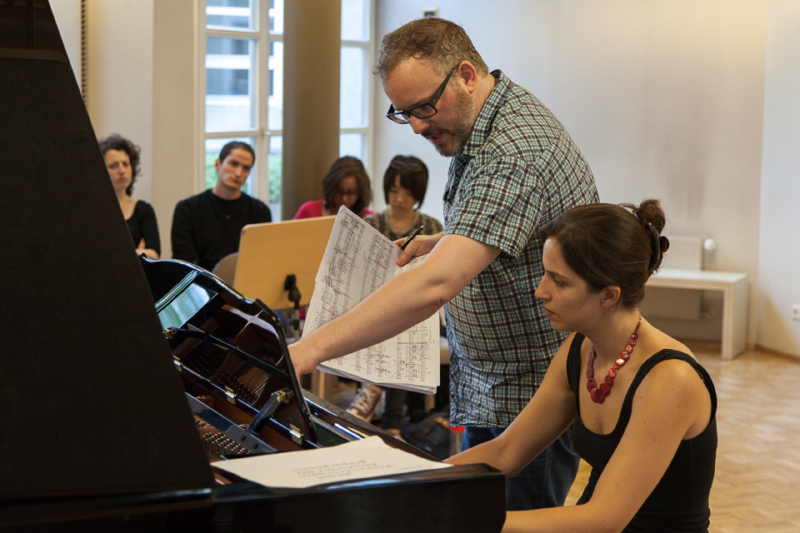 Zweiwöchiges Interpretationsstudio mit Auswahlverfahren
Dozent: Nicolas Hodges, Rei Nakamura (11./12. August)
Kursgebühr: 450€ (+15€ System- und Buchungsgebühr)
⏳ WARTELISTE
Bewerbungsschluss für das Studio war am 28. Februar 2023 und die Plätze sind vergeben. Es kann aber immer passieren, dass jemand kurzfristig absagen muss. Interessent:innen bitten wir, uns ihre Bewerbungsunterlagen (siehe unten) zu schicken und wir kontaktieren Euch, falls doch noch ein Platz frei wird.
Nicolas Hodges' piano interpretation studio will be presented as a series of open classes lasting approximately 3 hours. Participants are expected to attend every class. Please note that additional private lessons are not possible. Participants must prepare a varied and balanced programme including at least three works, including at least one from each of the following three categories:
1. A solo work by a composer attending Darmstadt in 2023 as a tutor:
Mark Andre, Malin Bång, Anthony Braxton, Chaya Czernowin, Brian Ferneyhough, Dai Fujikura, Arne Gieshoff, Clara Iannotta, Helmut Lachenmann, George Lewis, Isabel Mundry, Brigitta Muntendorf, Sarah Nemtsov, Stefan Prins, Jorge Sánchez-Chiong, Rebecca Saunders, Alvin Singleton, Tyshawn Sorey, Iris ter Schiphorst, Hans Thomalla, Jennifer  Walshe, Katherine Young, Du Yun
Time permitting, these composers may visit the class.
2. A solo work by a young composer born or residing in your country of birth or residence, which preferably has not yet been performed in Germany.
3. Free choice of other solo works written between 1945 and the present day. (Solo works by Christian Wolff are this year particularly welcome.)
Works for prepared piano or with electronics can be presented, bearing in mind practical constraints to be discussed in advance. If you intend to present any works involving playing anywhere other than on the keyboard and with the fingers, please inform us of the details in your application.
Please note that all the pieces in the programme submitted will be studied in Darmstadt: changes can only be made by prior agreement.
There will be a two-day workshop about the interpretation of multimedia piano works by Rei Nakamura. We start with a presentation of her multimedia project Movement to Sound, Sound to Movement featuring several pieces written for piano, electronics and video in different constellations. Rei will also speak about the difficulties an interpreter has to conquer when practicing multimedial pieces. There will be a practical guide how to initiate and practice these pieces, how to deal with a sampler piano, how to practice without any equipment, how to work with different types of clicktracks, and how to interpret a piece connecting the video and the music conceptually. In the following workshops these points will be discussed in detail with specific examples.
Last updated: 11.04.2023
Fri, 11 August 2023, Akademie für Tonkunst (Kleiner Saal)
10:30-12:00
Project presentation Movement to Sound, Sound to Movement for piano and multimedia
Guests – composers, instrumentalists, researchers – are welcome!
14:00-15:00
Workshop 1: Dealing with sampler keyboard (Stefan Prins: Piano Hero #1, 2011)
15:00-16:00
Workshop 2: Prepared piano (Christian Winther Christensen: Preludes, 2011-14)
Sat, 12 August 2023, Akademie für Tonkunst (Kleiner Saal)
10:30-12:00
Workshop 3: Buttons and triggers (Andreas Eduardo Frank: Punch, 2021)
14:00-16:00
Workshop 4: Video and score (Mark Barden: Die Haut Anderer, 2008)
Workshop 5: to be decided during the workshop
If you have questions concerning the workshop, please contact Rei beforehand.
Application
Applicants for the piano studio are requested to merge all links and documents into ONE SINGLE PDF file (LASTNAME_Firstname_Piano2023.pdf) and send it by ⏰ 28 February 2023 to:
piano@darmstaedter-ferienkurse.de
Required documents:
Biography/CV
List of all solo repertoire studied or performed, from all epochs. (Please also list any post-1945 chamber or ensemble works studied or performed.)
Your choice of solo programme for study as detailed above. (All works from the submitted programme will be expected to be presentable in Darmstadt.)
Recordings (as links to a private cloud or links to Youtube/Vimeo/Soundcloud etc) of at least two pieces, at least one composed after 1945. These do not have to be from the programme to be studied and are only for selection purposes.
Please note that we cannot consider any remarks, links, or information outside the PDF!
If you have sound or video files, please upload them on a cloud and provide the link in the PDF, thank you very much!
If you have questions, please e-mail Nicolas Hodges at piano@darmstaedter-ferienkurse.de before making your application.
Applicants will be notified in March 2023. Online booking for the piano studio will be opened afterwards to the chosen participants.
Important: Please take note of our data protection policy and the conditions for participation for the Darmstadt Summer Course before submitting your application.