Piano


Studio Nicolas Hodges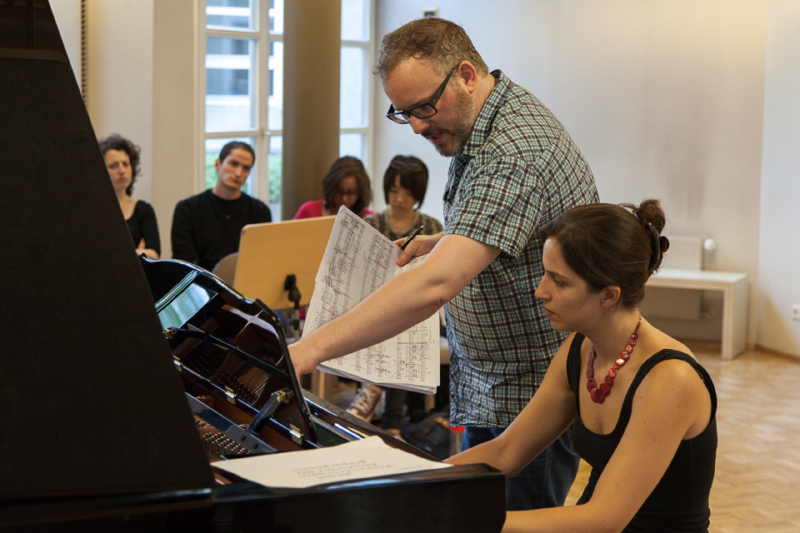 Two-week instrumental studio with selection procedure
Tutor: Nicolas Hodges
Deadline for applications: 31 March 2020
Description
The piano interpretation studio will be presented as a series of open classes lasting approximately 3 hours. Students are expected to attend every class. Please note that additional private lessons are not possible.
Participants must prepare a varied and balanced programme including at least four works, including at least one from each of the following four categories:
1. A work by a composer attending Darmstadt in 2020 as a tutor:
Mark Andre, Georges Aperghis, Malin Bång, Raphaël Cendo, Brian Ferneyhough, Lars Petter Hagen, Adriana Hölszky, Clara Iannotta, George Lewis, Cathy Milliken, Isabel Mundry, Sarah Nemtsov, Olga Neuwirth, Stefan Prins, Lucia Ronchetti, Tyshawn Sorey, Simon Steen-Andersen, Hans Thomalla, Du Yun.
Time permitting, these composers may visit the class.
2. A work by a young composer born or residing in your country of birth or residence, which preferably has not yet been performed in Germany.
3. A work of "mobile form" from the following list:
Gilbert Amy: Épigrammes (Heugel HE31810)
Gilbert Amy: Cahiers d'Épigrammes (Heugel HE31793)
André Boucourechliev: Archipel 4 (Leduc AL24506)
André Boucourechliev: Archipel 5D (Leduc AL24592)
André Boucourechliev: Six Études d'après Piranèse (Salabert EAS 17246)
Pierre Boulez: Sonata No. 3 (UE)
Karlheinz Stockhausen: Klavierstück XI (UE)
(Please email piano@darmstaedter-ferienkurse.de if you need advice on this.)
4. Free choice of other works written between 1945 and the present day.
Works for prepared piano or with electronics can be presented, bearing in mind practical constraints to be discussed in advance. If you intend to present any works involving playing anywhere other than on the keyboard and with the fingers, please inform us of the details in your application.
Please note that all the pieces in the programme submitted must be studied in Darmstadt: changes can only be made by prior agreement.
Application
Piano tutor Nicolas Hodges will choose the participants of his interpretation studio. To apply, please e-mail the following material by 31.03.2020 to piano@darmstaedter-ferienkurse.de:
Biography
Your choice of solo programme for study as detailed above. (All works from the submitted programme will be expected to be presented by the participant in Darmstadt.)
Recordings (as links to a private cloud or links to Youtube/Vimeo/Soundcloud etc) of at least two pieces. These do not have to be from the programme to be studied and are only for selection purposes.
Applicants are requested to merge all documents into ONE SINGLE PDF file (LASTNAME_Firstname_Piano_2020.pdf) and e-mail it by 31 March 2020 to: piano@darmstaedter-ferienkurse.de
Please note that we cannot consider any remarks, links, or information outside the PDF!
If you have sound or video files, please upload them on a cloud and provide the link in the PDF, thank you!
There are 10 places available, and a selection of participants will be made once the deadline for applications has passed. In case of questions please email Nicolas Hodges at piano@darmstaedter-ferienkurse.de before making your application.
Applicants will be notified by mid of April 2020. Online booking for this studio will be opened afterwards to the selected participants.
Important: Please take note of our data protection policy and the conditions for participation for the Darmstadt Summer Course before submitting your application.