Percussion
Studio Jennifer Torrence, Rainer Römer & Håkon Stene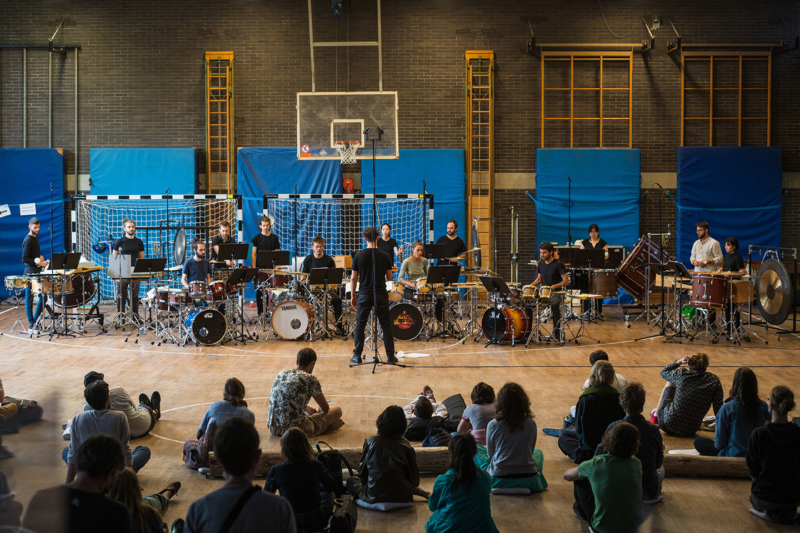 Zweiwöchiges Interpretationsstudio mit Auswahlverfahren

Dozent:innen: Jennifer Torrence, Rainer Römer, Håkon Stene
Kursgebühr: 450€ (+15€ System- und Buchungsgebühr)
Contents of the percussion studio
1) Individual lessons with each of the teachers:
Håkon Stene (5th-12th)
Rainer Römer (13th–19th)
Jennifer Torrence (both weeks)
2) 12 August 2023: Percussion Studio concert with chamber music (Fure, Sheehan, Xenakis, Nono, Sanchez-Chiong, Silva, a. o.)
3) 14 August 2023: Marshall Trammell – "Burn the temples/break up the bells" WP for large percussion ensemble
4) 18 August 2023: Concert with composer/performer workshop collaboration pieces (Call for scores); percussionist-composer's own works; improvisations; chamber projects selected by the participants
5) 19 August 2023: Final Studio concert with solos and small ensembles
6) Individual initiatives (for Open Space performances) are welcomed and supported
7) Masterclasses and roundtable discussions with
Rainer Römer: Working in Ensemble Modern (1985–)
Jennifer Torrence and Håkon Stene: Interdisciplinarity
Marshall Trammell: Drumset & Improvisation
Christian Dierstein: Lecture #1: On performance pieces by Aperghis, van Eck, Kagel, Sarhan; Lecture #2:  Career perspectives. Christian Dierstein will also offer 8 individual lessons.
Repertoire masterclass with present composers (names TBA)
Application
Applicants are requested to merge all links and documents into ONE SINGLE PDF file (LASTNAME_Firstname_Percussion2023.pdf) and send it by ⏰ 28 February 2023 to:
percussion@darmstaedter-ferienkurse.de
Required documents:
Curriculum Vitae
Repertoire list of contemporary works performed (solo + chamber music), if possible with links to video or audio examples
Please note that we cannot consider any remarks, links, or information outside the PDF!
If you have sound or video files, please upload them on a cloud and provide the link in the PDF, thank you very much!
If you have questions, please e-mail imd@darmstadt.de.
Applicants will be notified in March 2023. Online booking for the percussion studio will be opened afterwards to the chosen participants.
Important: Please take note of our data protection policy and the conditions for participation for the Darmstadt Summer Course before submitting your application.
© ️IMD-Archiv/Kristof Lemp 2021