Harp
Studio Gunnhildur Einarsdóttir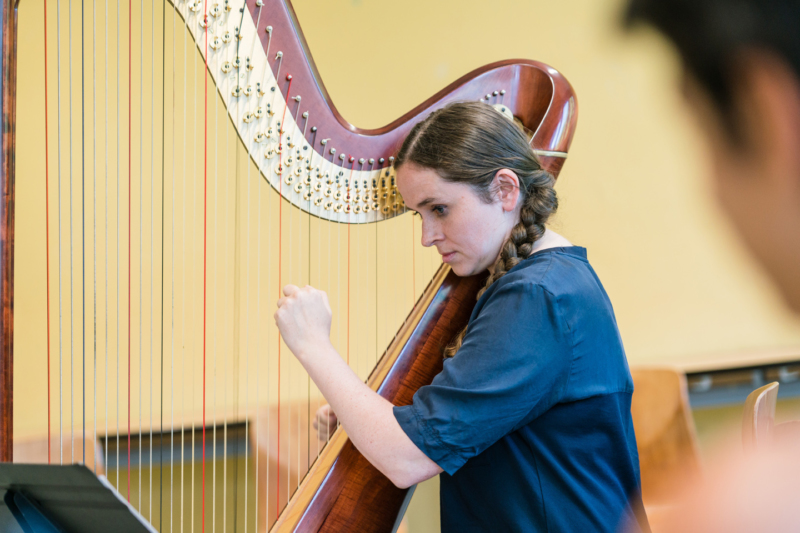 Two-week instrumental studio
Tutor: Gunnhildur Einarsdóttir
Course fee: 450€ (+15€ system and booking fees)
The Darmstadt harp studio focuses on new solo repertoire and interdisciplinary pieces for harp. Participants will experiment and investigate new sides of the instrument and cultivate an open minded attitude towards contemporary performance and collaboration. Participants are encouraged to bring (upon prior agreement) pieces involving video, electronics, and extended playing techniques. For example: Simon Steen-Andersen: The history of my instrument, Georges Aperghis: Fidelité, Sarah Nemtsov: A deux, Mark Andre: Un-Fini I, Jennifer Walshe: Elephant. Additionally, standard contemporary repertoire, both solo and chamber music is very welcome. Participants who would like to work on small ensemble pieces will be assisted in finding chamber music partners.
This time the harp studio will take part in two intensive projects within the Summer Course. The harp composition workshop with Rebecca Saunders and Gunnhildur Einarsdóttir will take place during the first week. During this six day intensive course, the harp class will work in close collaboration with participating composers on a short solo piece for harp under the guidance of the tutors. The course's main emphasis is on the collaborative process, sound experimentation, notation, and performance.
In the second week the harp studio will take part in a project that focuses on Luciano Berio's outstanding cycle for different solo instruments, Sequenze. This project is lead by musicologist, leader of Centro Studi Luciano Berio and member of the Scholarly Staff of the Paul Sacher Stiftung, Angela Ida De Benedictis. Preparing the Sequenza II for harp is not obligatory, but very welcome.
The results of both – the harp studio and the harp composition workshop – will be presented in a final concert.
For impressions from previous years, please see the facebook page of the Darmstadt harp class:
© ️IMD-Archiv/Kristof Lemp 2018