Kranichstein Music Prize 2023
Press release 19 August 2023
At the end of the Darmstadt Summer Course 2023, the Kranichstein Music Prize was awarded on 19 August to the percussionist Romane Bouffioux (*1994, Switzerland) and composer Kari Watson (*1998, USA).
This year's independent jury consisted of composer and University Professor Karola Obermüller, music journalist Leonie Reineke, and tuba player and composer Melvyn Poore.
The Kranichstein Music Prize has been awarded to active participants at the end of the Darmstadt Summer Course since 1952. To date, a total of 183 prize winners have been honored. For many of them, the prestigious award represented an important step at the beginning of their career as a musician, ensemble or composer.
The prize includes financial awards of 6,000 Euros. Of this, 3,000 Euros each goes to the prize for interpretation, and the prize for composition.
The jury says about the two prize winners:
"Kari Watson's music has bite as well as poetry. The composer speaks her own language between surreal-synthetic sound worlds and radio-play-like collage. The percussionist Romane Bouffioux convinces with her engaging stage personality, expressive performances and outstanding technical precision." – Excerpt from the jury statement for the Kranichstein Music Prize 2023.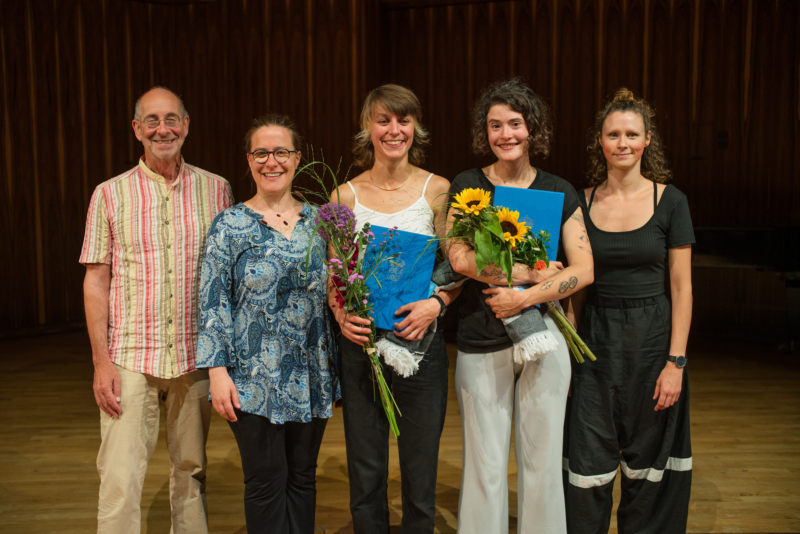 In addition, further musicians and composers were awarded scholarships for participation in the subsequent Darmstadt Summer Course, taking place in 2025:
Composition: Bethan Morgan-Williams (*1992, Great Britain)
Interpretation: Duo MoMa – Molly Påhlsson (*1994, Sweden, Flute) and Marianne Sihvonen (*1994, Finland, Flute) as well as Jenna Vergeynst (*1992, Belgium, Harp).
For the first time, the jury proposed to award some honorable mentions in addition to the Kranichstein Music Prize and scholarships. They recommend following the artistic development of:
Blaurenz Duo: Rebecca Blau (Flute) & Rebecca Lawrence (Double bass)
Antigoni Baxe (Guitar)
Duo RÁN: Ida Nørby (Composition and Cello) & Melissa Achten (Harp)
Audréanne Filion (Cello)
Solomon Frank (Composition)
Elizabeth Gartman (Composition)
Jennifer Gersten (Violin)
Maria Iaiza (Piano)
Kalun Leung (Trombone and Electronics)
Kharkiv Guitar Quartet (Sergii Gorkusha, Maksym Trianov, Iryna Polovynka, Andrii Brahin)
Lidia Luciano (Voice)
Rosie Middleton (Voice)
Elisabeth Müller (Accordion)
Kelley Sheehan (Composition)
Yumi Suehiro (Piano)
Masashi Yamamoto (Double bass)
The awarding of the prize also concludes the 51st Darmstadt Summer Course, which ended on August 19 with a concert by the Frankfurt Radio Symphony conducted by the French conductor Pierre Bleuse with works by the recently deceased Finnish composer Kaija Saariaho, Morton Feldman, and a world premiere by Mariam Rezaei (turntables/composition) and Matthew Shlomowitz.
Around 380 active participants and 60 lecturers from 51 nations as well as many international guests took part in the Summer Course from 5–19 August, 2023. In courses, workshops, lectures and an extensive public concert program with 29 world premieres and four commissioned compositions, the focus was on the creative process as well as collaborative forms of work and sustainable production methods in all their facets.
The next Darmstadt Summer Course will presumably start on 19 July, 2025.
Press contact and photo requests:
Katja Heldt
T +49 6151 13 4995
presse@internationales-musikinstitut.de
The Darmstadt Summer Course 2023 was substantially supported by: Kulturfonds Frankfurt RheinMain, Hessian Ministry of Science and the Arts, The Federal Government Commissioner for Culture and the Media, Ernst von Siemens Music Foundation, Jubilee Foundation of Sparkasse Darmstadt, as well as by many other sponsors and partners.
IMD is a cultural institute of Darmstadt, City of Science.