Arditti Quartet
String Quartet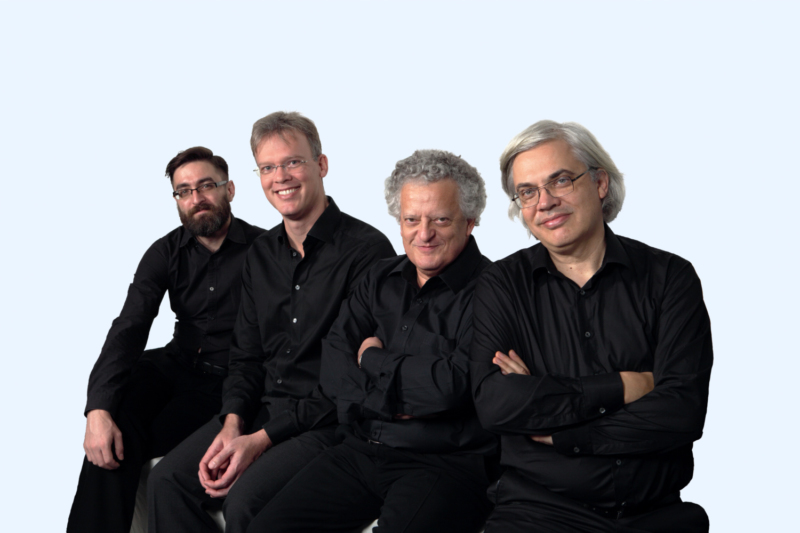 The Arditti Quartet enjoys a world-wide reputation for their spirited and technically refined interpretations of contemporary and earlier 20th century music. Many hundreds of string quartets and other chamber works have been written for the ensemble since its foundation by first violinist Irvine Arditti in 1974. Many of these works have left a permanent mark on 20th century repertoire and have given the Arditti Quartet a firm place in music history. World premieres of quartets by composers such as Abrahamsen, Ades, Andriessen, Aperghis, Birtwistle, Britten, Cage, Carter, Denisov, Dillon, Dufourt, Dusapin, Fedele, Ferneyhough, Francesconi, Gubaidulina, Guerrero, Harvey, Hosokawa, Kagel, Kurtag, Lachenmann, Ligeti, Maderna, Manoury, Nancarrow, Reynolds, Rihm, Scelsi, Sciarrino, Stockhausen and Xenakis and hundreds more show the wide range of music in the Arditti Quartet's repertoire.
The ensemble believes that close collaboration with composers is vital to the process of interpreting modern music and therefore attempts to work with every composer it plays.
The players' commitment to educational work is indicated by their masterclasses and workshops for young performers and composers all over the world.
The Arditti Quartet's extensive discography now features over 200 CDs.
42 CD's were released as part of the ensemble's series on Naive Montaigne. This series set the trend, by presenting numerous contemporary composer features, recorded in their presence as well as the first digital recordings of the complete Second Viennese School's chamber music for strings. The quartet has recorded for more than 20 other CD labels and together this CD collection is the most extensive available of quartet literature in the last 40 years. To name just a few, Berio, Cage, Carter, Lachenmann, Ligeti, Nono, Rihm, the complete chamber music of Xenakis and Stockhausen's infamous Helicopter Quartet. Some of the most recent releases with the French company Aeon include profiles of Birtwistle, Gerhard, Ferneyhough Paredes and Dusapin, and with Winter and Winter Abrahamsen.
Over the past 30 years, the ensemble has received many prizes for its work. They have won the Deutsche Schallplatten Preis several times and the Gramophone Award for the best recording of contemporary music in 1999 (Elliott Carter) in 2002 (Harrison Birtwistle) and in 2018 (Pascal Dusapin). In 2004 they were awarded the 'Coup de Coeur' prize by the Academie Charles Cros in France for their exceptional contribution to the dissemination of contemporary music. The prestigious Ernst von Siemens Music Prize was awarded to them in 1999 for 'lifetime achievement' in music. They remain to this day, the only ensemble ever to receive it.
The complete archive of the Arditti quartet is housed in the Sacher Foundation in Basle, Switzerland.
© ️Copyright: Astrid Karger