Mariam Rezaei
Turntables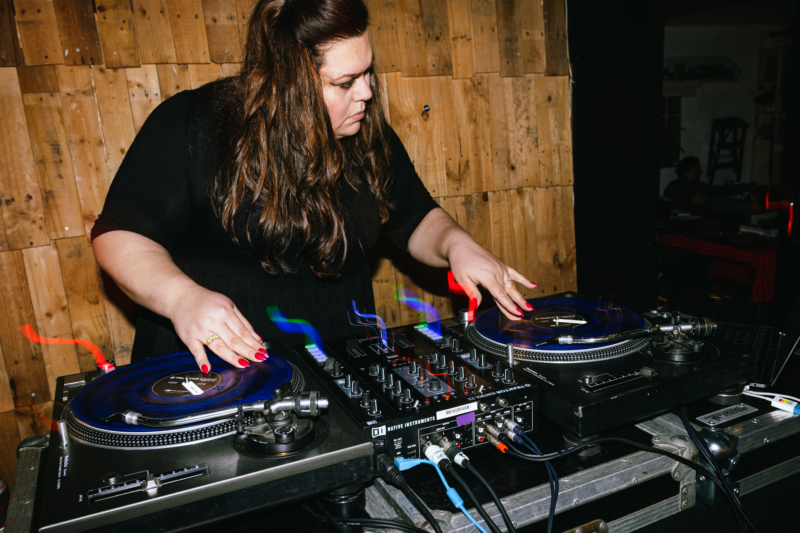 Mariam Rezaei is a multi-award-winning composer, turntablist, writer and performer. She previously led experimental the art projects TOPH, TUSK FRINGE and TUSK NORTH, and is Artistic Director of TUSK Festival, based in Newcastle and Gateshead (tuskmusic.org). On November 10th 2022, she received the Paul Hamlyn Foundation #AwardsForArtists, in recognition of her contribution to music composition. Her music has recently been described as ' genuinely ground-breaking' (London Jazz News 2022) and 'high-velocity sonic surrealism' (4* The Guardian 2022). Recent releases include 'SADTITZZ', 'SKEEN', 'Veil', a collaboration with Stephen Bishop on TUSK Editions/Opal Tapes, 'SISTER' with soprano Alya Al-Sultani, and TECHNOPOWER on Tusk Editions.
Mariam presents a podcast on contemporary turntablism called 'These Are The Breaks…' and is a guest DJ on' Radical Scotland' by Stewart Smith, both on repeater-radio.com. 'BOWN', the third album in the triptych 'BLUD : SKEEN : BOWN,' is due for release, in 2023.
Recent notable works include; 'This World Which Is Made Of Women' 2022 BBC Radio 3, 'SADTITZZZ' LCMF 2022, BBC Radio 3 After Dark Festival, April 2022, Tusk North April 2022. 'The Sound of Hate', EKKO Festival, Nov 2021. 'We Are Not Finished' with Fevered Sleep, Nov 2021. 'Wolf's Tail : II' for Archipel Festival, April 2021. 'Paradoxes', West Den Haag, Jan 2021. Duos with Cath Tyler and Stephen Bishop for TUSK VIRTUAL 2020 and BBC Radio 3 Late Stages, Oct and Nov 2020. BBC Radio Freeness 'SKEEN', July 2020. 'AGENCY-SKEEN', AMPLIFY 2020. 'The 42 Mirrors of Narcissus' TUSK Festival 2019. 'Wolf's Tail' HCMF 2019. 'TOP///' at Tectonics Mosaic/Cresc. Festival 2018, Wiesbaden, for Ilan Volkov, and Ensemble Modern.