Mayumi Shimizu
Trombone Tutor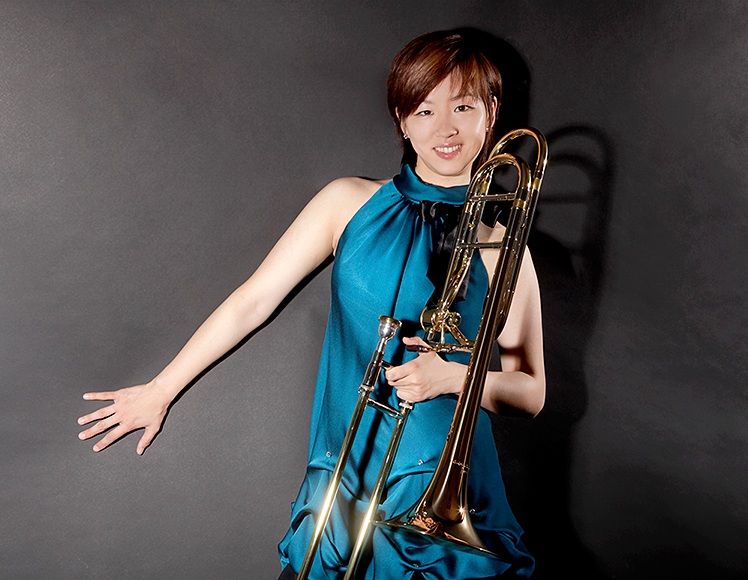 Born in Kawasaki, Japan, Mayumi Shimizu started taking piano lessons at the age of five and began with the trombone when she was ten.
Before she was getting involved in professional trombone playing, she took her first degree in applied physics and physico-informatics at Keio University in Tokyo from 2000 to 2004, and continued these studies at master's level after graduation. But after physic studies she followed her dream to become a professional trombone player and in 2005, she began her musical training in trombone at the Freiburg University of Music under Prof. Branimir Slokar. After graduating there in 2010, she continued her trombone studies also under him this time for a master's degree in Bern University of Musik.
In 2012, she completed her studies with excellent results and the world premier of the concerto for trombone and orchestra Re-slide of Vito Zuraj with Camerata Bern.
At the same time, she has gained experiences with several orchestras like the Berlin Philharmonic, the Deutsche Oper Berlin, the Berlin Radio Symphony Orchestra, the NDR Radiophilharmonie Hannover and the Saito Kinen Festival Orchestra.
From 2007 to 2009, she was a member at the Karajan Academy of the Berlin Philharmonic and learned from their principal trombonist Prof. Christhard Gössling.
In 2009 she got a first engagement as principal trombonist in the Bruckner Orchestra Linz and since the season 2012/2013, she has been a principal trombonist in the Southwest German Radio (SWR) Symphony Orchestra Baden-Baden and Freiburg.
In addition to her orchestral playing she is also active in performing solo recitals, chamber music and solo concertos with orchestra.
As a soloist she won several competitions like the Gdansk International Brass Competition in Poland and was invited to the international music festivals like IPV-Symposium and Thailand Brass Festival. She is also working with composers to perform world premieres.