Darmstadt On Air #11


Stop just decolonizing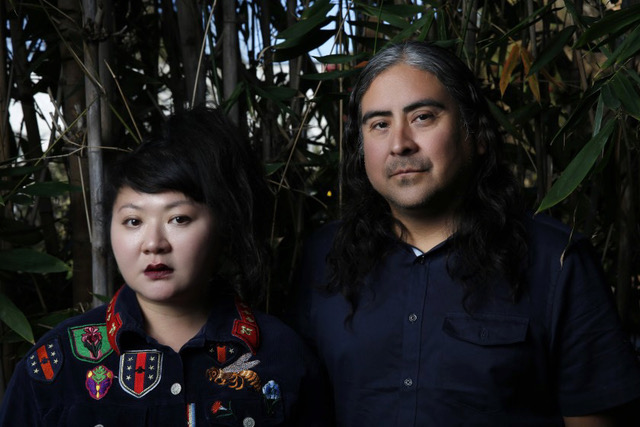 We are very happy that the New York based, Chinese born composer, multi-instrumentalist, vocalist and performer Du Yun will be teaching composition at the next Darmstadt Summer Course for the first time. She hosted the 11th edition of our ? Darmstadt On Air podcast and invited Raven Chacon to the talk, her collaborator in the opera production "Sweet Land" which was premiered in the beginning of 2020. Raven was born in Fort Defiance, Navajo Nation, Arizona, and is now working and living in Albuquerque, New Mexico as a composer, performer and installation artist. From 2009 to 2018, he was a member of the interdisciplinary arts collective Postcommodity, and since 2004, he teaches composition at the Native American Composer Apprenticeship Project (NACAP). In 2018, Raven visited the Darmstadt Summer Course as a lecturer and panelist.
He and Du Yun met online on 13 August 2020 and talked about their composer collaboration, about dealing with traditions, with representation, lazy curation and about the fluidity of identity. In Raven's words: "Facilitators (curators, programmers) should make the space for an artist to be able to transform."
There is also a video version of the podcast, which also contains pictures from the "Sweet Land" production:
The conversation is related to a keynote by Du Yun at the symposium "Curating Diversity in Europe. Decolonizing Contemporary Music", which took place on 25 September 2020 at the Berlin Akademie der Künste. It can be found on YouTube.
More about Raven Chacon: http://spiderwebsinthesky.com
Many thanks to Du Yun and Raven Chacon, to Stefan Prins for the jingle, and to Olaf Mielke!

Darmstadt On Air is also available on Spotify, Apple Podcasts and Google Podcasts.
© ️Dania Maxwell for the Los Angeles Times