Talking Darmstadt
News, reviews & reflection on Darmstadt Summer Course 2023 – made by students in the "Words on Music" course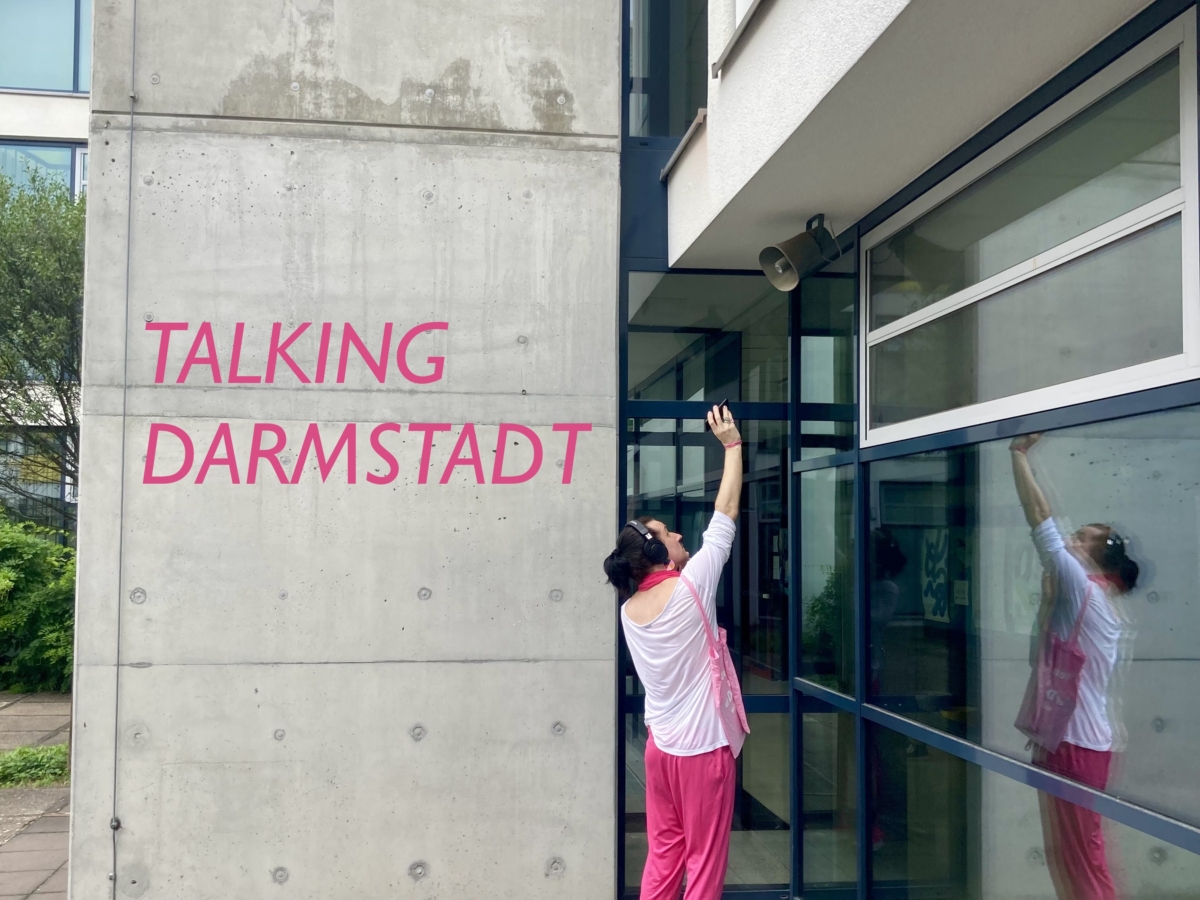 The group will provide you with background information, strong and soft opinions, regular studio guests and musical gems for the next two weeks – on a daily basis!
Check out their Soundcloud (/talkingdarmstadt) or follow IMD on Instagram (@imd_darmstadt) to stay tuned.
The final episode of the Talking Darmstadt Podcast brings some reflection from participants, tutors and our very own commentator team to wrap up our series, asking how we experienced Darmstadt, what the highlights have been, and what can make it even better for next time! Featuring the voices of Matthew Shlomowitz, Leonie Reineke, Juro Kim Feliz and Mimi Doulton.
Today we talk about some of the open spaces we visited in the last few days. We hear from Sinead, who popped into the creative orchestra workshop by Anthony Braxton and recorded some reactions after the concert. We also welcome Juliet Fraser as our guest, talking about performing contemporary music, environmentalism and how this Darmstadt experience has changed her. Hosted by Milan, Julian, Sinead and our special guest host Nicole with Marat producing.
Episode 7 features an interview with Wojtek Blecharz and a preview of Rei Nakamura's performance of the Concerto for Piano and Wireless Speakers. Madeline, Jan, and Kevin offer thoughts on new meets old at Darmstadt, and review the concerts Sonic Writing & Soundings and Playing with Seeds. Chatori produces alongside sound engineer Arthur.
Exploding back after the weekend Episode 6 has a conversation with composer Jennifer Walshe at its beating heart, plus our usual mix of reviews, opinions and recommendation! You'll hear the voices of Lisa, Wynold, Juro and Mikkel, with Kevin producing alongside sound engineer Arthur.
Episode 5 features a chunky conversation with George Lewis, circling in on practical ideas for music education and festival programming of the future. Hosted by Marat, Julian and Sinead with Milan in the producer hot-seat today.
Episode 4 includes a review of Minor Characters by Matthew Shlomowitz and Jennifer Walshe, and a spacious and personal conversation with Chaya Czernowin about her opera Heart Chamber: An inquiry about love. Hosted by Chatori, Madeline and Jan with Kevin in the producer hot-seat.
The podcasts are produced and presented entirely by students. The third episode is hosted by Lisa, Mikkel and Juro and includes a discussion about the New Discipline with accordionist-composer Andreas Borregaard and composer-performer Josh Spear of the group Bastard Assignments.
The podcasts are produced and presented entirely by students. The second episode is hosted by Julian, Sinead, Marat and Milan and includes insights on working with Anthony Braxton from singers Fabienne Seveillac and Andreas Halling.
The podcasts are produced and presented entirely by students: the first episode features Madeline, Kevin and Chatori and is produced by Jan.