Kranichstein Music Prize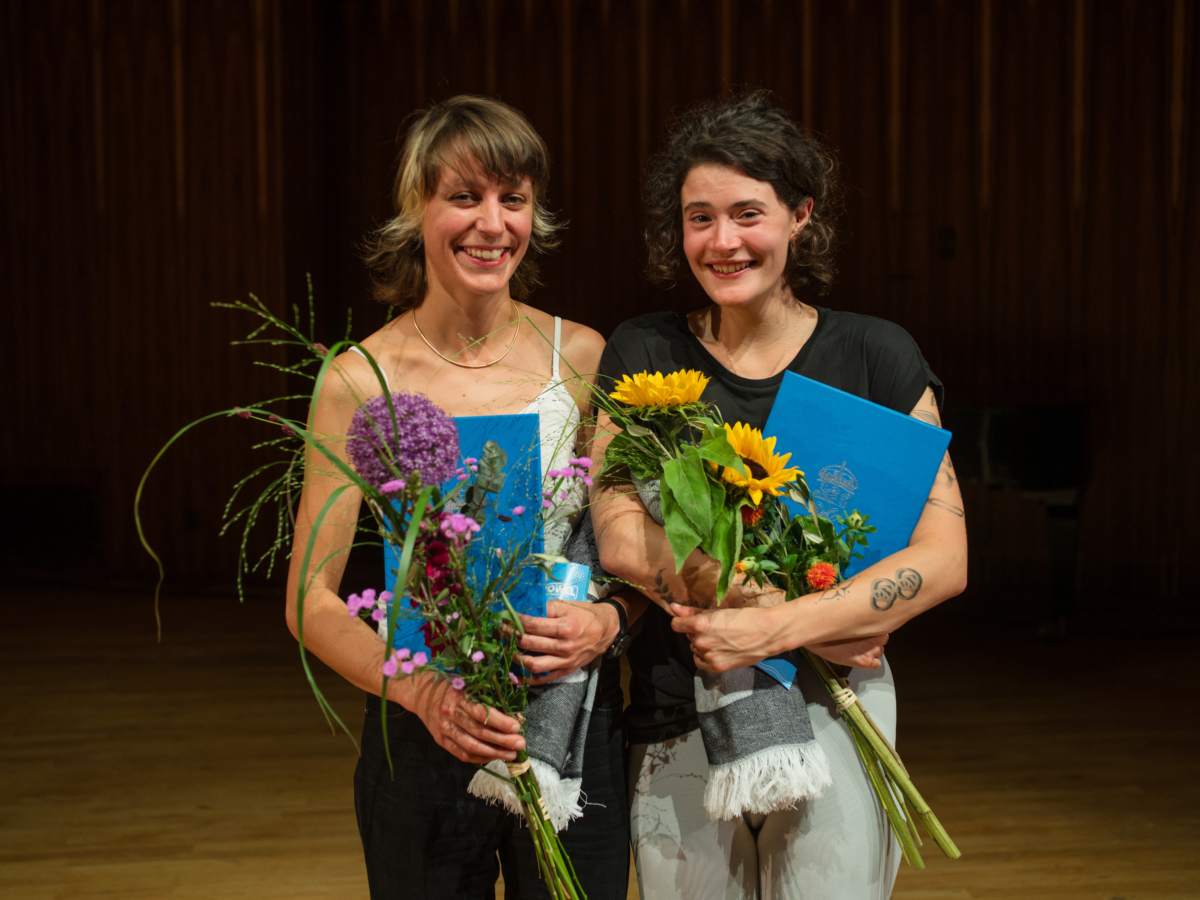 Percussionist Romane Bouffioux (*1994, Switzerland) and composer Kari Watson (*1998, USA) were awarded the Kranichstein Music Prize 2023.
👉 Press release Kranichstein Music Prize 2023
Since 1952, the Kranichstein Music Prize (Kranichsteiner Musikpreis) has been awarded during the Darmstadt Summer Course. There are 183 laureates so far and for many of them the renowned prize has been an important milestone at the beginning of their career as musician, ensemble or composer.
The total endowment sum of the Kranichstein Music Prize is 6,000 EUR, consisting of 3,000 EUR for the interpretation prize (ensemble or soloist) and 3,000 EUR for composition. These two awards are complemented by a number of scholarships for the participation in the following Darmstadt Summer Course.
Composers, ensembles/musicians who take part actively in the Darmstadt Summer Course can be taken into account for the prize. Compositions are considered when a live performance of the work takes place in an officially scheduled concert during the Summer Course. (This includes the performance of a tape / electronic piece to an audience in a concert or installation setting.) Interpreters (soloists and ensembles) are judged on live performance during the Summer Course.
The Kranichstein Music Prize winners and the scholarship holders are chosen by an independent jury coming from different fields of New Music. In 2023, the composer and university professor Karola Obermüller, the music journalist Leonie Reineke and the tuba player and composer Melvyn Poore were invited as Kranichstein jury members.
The realization of the Kranichstein Music Prize 2023 is significantly supported this year by donations to the Friends of IMD, for which we are very grateful.
The prize is awarded for a work / performance which the jury judges to be outstanding in terms of quality and impact.
The jury judges by the following criteria:
Composition: Originality, coherence, willingness to take risks, proficient skills, distinctive "voice", choice of means in relation to the artistic intention, clarity with regard to the intended thought or expression, collaboration with other artists during the courses, sophistication with regard to notation and form as well as knowledge of the instruments/sound generators used.
Interpretation : Creativity, stage presence, commitment / enthusiasm, distinctive "voice", teamwork (in ensembles), collaboration with other artists during the courses, clear (also non-verbal) communication within a group, commitment and responsiveness towards the audience, fidelity to the score, clarity of the interpretative approach, sound quality, instrumental mastery.