Open Space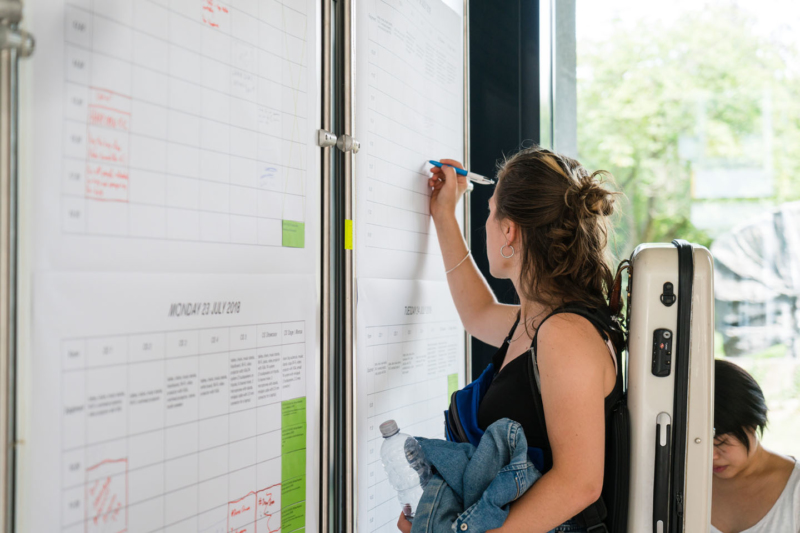 Since the Summer Course in 2010 the Open Space has been a core component of the academy program and has developed, especially during recent years, to a kind of "fringe festival": Course participants, tutors and guests have been using the Open Space rooms extensively for self-motorized exchange and self-organized knowledge transfer in order to share ideas, concepts, texts and "their" music with others.
The Open Space rooms on the Summer Course campus are open to anyone who wants to raise issues for debate, organize public talks or lectures, show films, listen to music, or initiate other public formats. Open Space is set up as an autonomous public zone, a platform for self-organized exchange complementary to the official curriculum of the Darmstadt Summer Course.
Open Space rooms can be reserved from 6 to 19 August 2023 on place only. To avoid any false expectations, we would like to point out that the Open Space rooms are not suitable for extensive concert presentations but are intended to be suitable for smaller formats where personal exchange and meeting new people are the primary focus.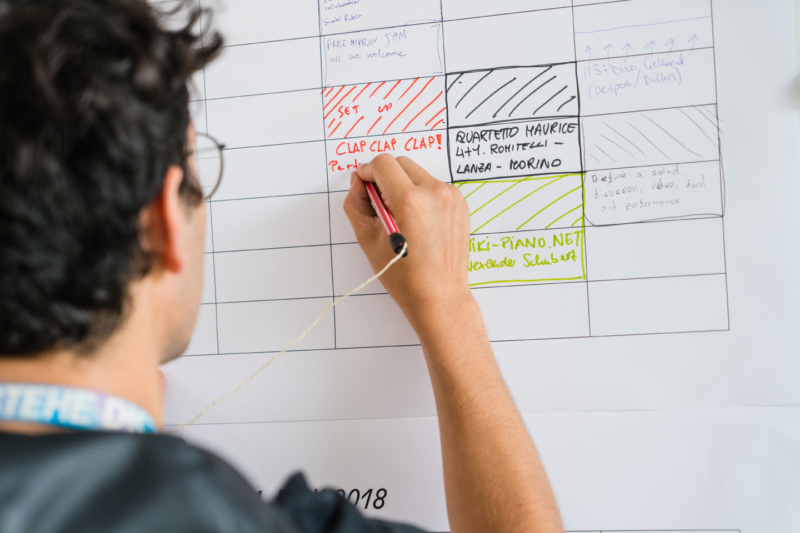 OPEN SPACE Programs 2010-2018
Manual
OPEN SPACE is a tool for self-organized exchange and knowledge transfer complementary to the official curriculum of the Summer Course. There are three simple rules for using the OS that are meant to facilitate self- organized activities:
Don't leave traces.
Make things possible for others.
The doer decides, the decider does.
All OS activities are self-organized, that means that there is no staff assigned to the rooms. The organization and realization of activities, the preparation, build-up, usage of equipment and cleanup after the event are the responsibility of the respective initiator(s). If you need support you can find someone from the OS team at the festival office. OS is public, that means that all activities organized within it are publicly announced and accessible to the public. OS is not a private rehearsal or work space.
How to organize a project in the OS (possible from 6 to 19 August 2023 only):
Step 1: Choose an OS room with equipment suitable for your project.
Step 2: Check the OS Wall Calendar (available from 6 to 19 August 2023 at Lichtenbergschule) for a free slot in the respective OS room.
Step 3: Inscribe your project into the OS Wall Calendar.
Step 4: Provide the following information (Date, Time (hh:mm–hh:mm), OS Space No., Name, Title, Short Desciption, Language and Contact Information) via our online form. The total time includes time for set-up and clean-up!
IMPORTANT
We need your inscription by ⏰ 4 pm the day before your project. Otherwise it cannot be announced properly. Please keep us informed about changes or in case you cancel your project!
Please make sure early enough that all technical devices in the room are working.
Your project will be made public in the OS online calendar. Please, take care of your audience: spread the word, invite people to join your project. If you want to make changes, check the OS Wall Calendar, inform the OS coordinator and e-mail openspace@darmstaedter-ferienkurse.de
How to attend projects in the OS
All projects taking place in the OS are open to the public and admission is free. Please check regularly for updates! A daily schedule of the OS program will be accessible from 6 to 19 August 2023 on our website:
EQUIPMENT
OS1
tables, chairs, Wi-Fi, music stands, video projector with HDMI, PA system (6 channel mixer, stereo PA, 2 HSAT 137 microphones with stands, XLR cable, minijack cable, power plug, speakon cable)
OS 2
tables, chairs, Wi-Fi, music stands, blackboard, overhead projector
OS 3
tables, chairs, Wi-Fi, music stands, blackboard
OS 4
tables, chairs, Wi-Fi, music stands, blackboard, video projector with HDMI
OS 5
tables, chairs, Wi-Fi, music stands, smart board
OS Showcase
tables, chairs, Wi-Fi, music stands, blackboard, overhead projector, piano, video projector with VGA/HDMI, PA system (6 channel mixer, stereo PA, 2 HSAT 137 microphones with stands, XLR cable, minijack cable, power plug, speakon cable)
OS Stage / Mensa
chairs (big audience), music stands, stage, Wi-Fi, video projector with VGA/HDMI, PA with sub, 8 channel mixer, 4 microphones