Ensemble Modern
Ensemble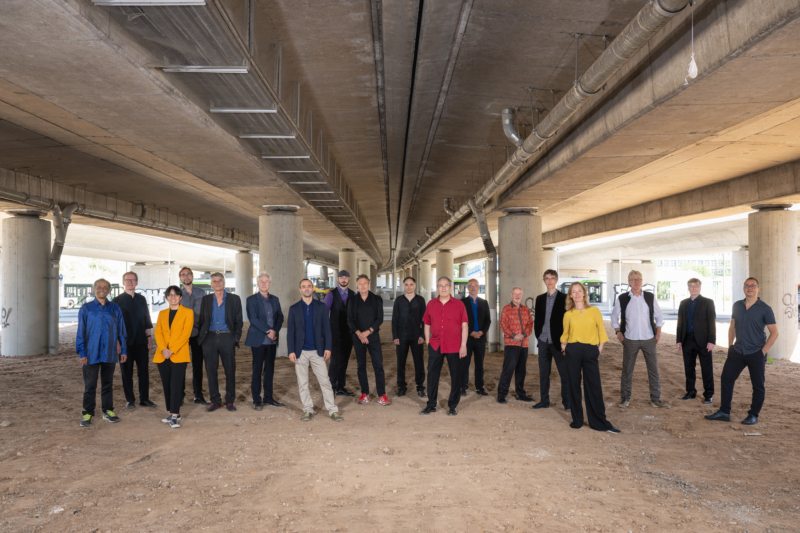 Ensemble Modern is a curious loudspeaker for music of our times: courageous, uncompromising, energetic. An essential, aesthetically polyglot amplifier for trend-setting sound concepts. It is one of the most well-known, leading current music formations in the world. Founded in 1980 and at home in Frankfurt am Main, 18 soloists currently determine the activities of this democratically organized ensemble. The musicians from Belgium, Bulgaria, Germany, Greece, India, Israel, Japan, Switzerland and the USA jointly decide on artistic projects, partnerships with other artists and all financial matters. Its aesthetic spectrum includes musical theatre works, dance and multimedia projects, chamber music, ensemble and orchestral concerts. Tours and guest appearances regularly take Ensemble Modern to the most renowned festivals.
Every year, Ensemble Modern rehearses and performs approximately 70 new compositions, including about 20 world premieres, some of which it commissions itself. The ensemble strives to achieve the highest possible degree of authenticity by working closely with the composers themselves. Ensemble Modern's concept and goal is to achieve the highest possible precision in implementing a composer's ideas. Its work is characterised by extraordinary and often long-term cooperative ventures with renowned artists, such as John Adams, Mark Andre, George Benjamin, Unsuk Chin, Peter Eötvös, Brian Ferneyhough, Heiner Goebbels, Hans Werner Henze, Heinz Holliger, Mauricio Kagel, György Kurtág, Helmut Lachenmann, György Ligeti, Cathy Milliken, Brigitta Muntendorf, Olga Neuwirth, Enno Poppe, Steve Reich, Wolfgang Rihm, Rebecca Saunders, Iris ter Schiphorst, Simon Steen-Andersen, Karlheinz Stockhausen, Mark-Anthony Turnage, Frank Zappa, Hans Zender or Vito Žuraj, as well as outstanding artist personalities from other artistic genres.
Since 2000 Ensemble Modern has run its own media label, Ensemble Modern Media. Numerous productions, many created in cooperation with the public radio stations in Germany – hr2-kultur is Ensemble Modern's cultural affairs partner – have thereby been made available on a permanent basis. Further audio media, of which Ensemble Modern has produced approximately 150 so far, have been released by other established labels, including col legno, ECM Records, NEOS Music, Sony Music and Wergo. In 2003, Ensemble Modern founded the International Ensemble Modern Academy (IEMA), bundling its existing education and further education projects under one roof. Its goal is to convey the numerous artistic movements of our times as well as an open, creative manner of dealing with artistic processes.