Convert Ego


Workshop for computer-controlled contrabass clarinet CLEX and ensemble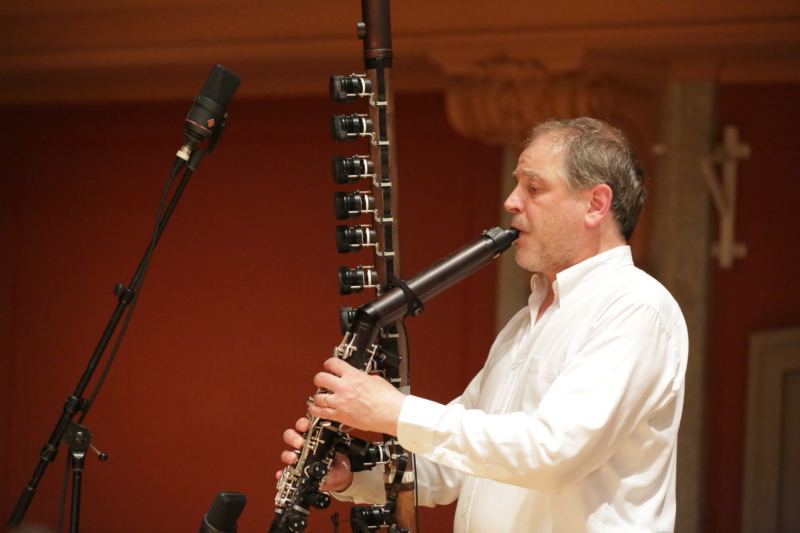 Tutors: Ernesto Molinari (CLEX) and guest tutors from HKB: Daniel Weissberg, Michael Harenberg (composers), Beat Müller (sound engineer)
Workshop dates: three days tba.
Workshop times: 13.00–19.00 on all three days (ensemble sessions: realisation of an improvisational algorithmic work)
Additional Sessions:
tba., 10.00–12.00
Hands-on workshop for other interested singers and instrumentalists
tba., 10.00–12.00
Workshop discussing the aspects and use of Max MSP live electronics in composition
Location: Akademie für Tonkunst
Possible number of active participants in ensemble sessions: 6 – 9 musicians (singers, all wind instruments and strings)
Open to listeners: Yes
How to sign up: No selection process, but "first come, first served". Summer course participants will be informed by the end of April how to sign up.
Participants: Singers, all wind instruments and strings
We also welcome: composers, tutors and anyone interested
in the interfaces between improvisation and composition
the concept of iPad-based algorithmic composition
in the control, programming and realisation of live electronics (Max/MSP)
Prerequisites for participation: Advanced instrumental level, creative curiosity, interest in interfaces between improvisation and composition, live electronics and multimedia concepts. The "score" or playing instructions are found on the iPads which will be provided.
Description
By digitizing the mechanics, the CLEX (double bass clarinet with a computer-controlled dynamic sensor) is able to send and receive MIDI information. In "Convert Ego" the CLEX becomes the central spot in a constantly changing network of up to ten instruments. They are connected to each other via iPads and able to communicate with the CLEX and each other in changing configurations, individually but also in groups. This makes it necessary for the players to be highly cooperative and willing to listen to the respective connections with changing partners and at the same time take responsibility for the sound of the ensemble.
The sound of every instrument is being analysed and generates instructions for other players. The musicians interact and mutually control each other. The live generated instructions are communicated via iPads. The sound of the instruments is extended with live electronics.
Every performance of "Convert Ego" will sound different. The performers must have a high degree of personal commitment. They not only have to fulfil the role as a performer, but are also required to improvise and to take responsibility for compositional decisions.
The musicians move the music individually and in changing groups. All instruments will be equipped with microphones and will have a reference loudspeaker and an iPad.
There is a thin line between technically supported composition and improvisation: Perhaps a new approach to interpretation?
If you have any questions on the Convert Ego project, please contact Daniel Weissberg: dweissberg@vtxmail.ch
Trailer of the world premiere: