Darmstadt On Air #19


Schöne Stellen – Beautiful Moments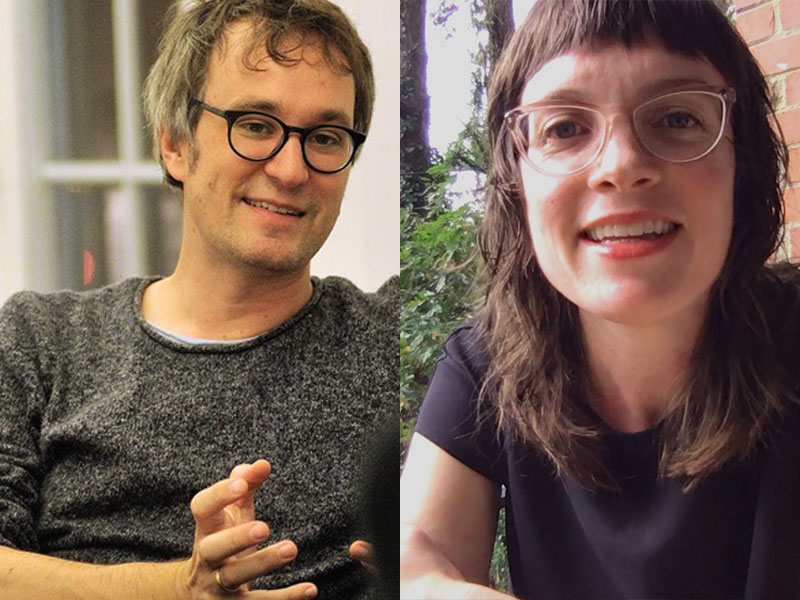 For the 19th episode of our 🔴 Darmstadt On Air audio podcast, two composers have picked music that they like and find beautiful. Starting with one moment from each other's oeuvre, Hans Thomalla and Katherine Young discuss music by the Roscoe Mitchell Sextet, by Carola Bauckholt and by Michelle Lou. And they also ask what makes beautiful moments, as did Theodor W. Adorno in his radio essay from 1965 which has the same title: "Schöne Stellen – Beautiful Moments".
Hans Thomalla has a long history with Darmstadt: winner of the Kranichstein Music Prize in 2004, he has been a regular member of the faculty during the last years. Hans was born in Germany in 1975 and is professor for composition at Northwestern University in Chicago, where he founded and directs the Institute for New Music. Katherine Young works as a composer, bassoonist and improviser. When she first came to Darmstadt in 2014, she won a stipend for the Summer Course two years later and was commissioned a new piece for guitar and electronics. Katherine is now based in Atlanta and teaches composition at Emory University. But she also has deep ties to the Chicago music scene, having lived and made music there for many years.
More about Katherine Young: https://katherineyoung.info
More about Hans Thomalla: https://www.hans-thomalla.com
Many thanks to Katherine Young and Hans Thomalla, to Stefan Prins for the jingle, and to Lennard Schubert!

Darmstadt On Air is also available on Spotify, Apple Podcasts and Google Podcasts.
© ️Hans Thomalla: Maurice Korbel