DARMSTÄDTER FERIENKURSE


SAVE THE DATE: 05.–19.08.2023
Registration for participation from 18 January 2023
Festival program & Tickets mid April 2023
Two-week festival, international summer academy, discourse platform and artistic laboratory – the next Darmstadt Summer Course will take place from August 5 to 19, 2023. We are planning a dense program of concerts, courses, workshops, lectures, discussions, think tanks and studios, with the participation of about 60 tutors and many other guests. About 400 active participants from about 50 nations are expected. Registration for participation will be possible via this website from 🚀 18 January 2023; information on individual courses and workshops will be published from the beginning of January and regularly updated. For many courses the principle "first come, first served" applies, for some instrumental studios and workshops there are selection procedures. We will inform you here about the conditions in time.
The festival program includes around 60 public events with artists and ensembles such as Anthony Braxton & Thunder Music Ensemble, Klangforum Wien, hr-Sinfonieorchester, Irvine Arditti, Dedalus Ensemble, Nikel, Ensemble Modern, Mivos Quartet, Spółdzielnia Muzyczna, PMP Orchestra, Ictus & Rosas. Program details and tickets will be available from mid-April on this website.
All information is subject to change. Last updated: 26 October 2022
If you have questions, please e-mail imd@darmstadt.de!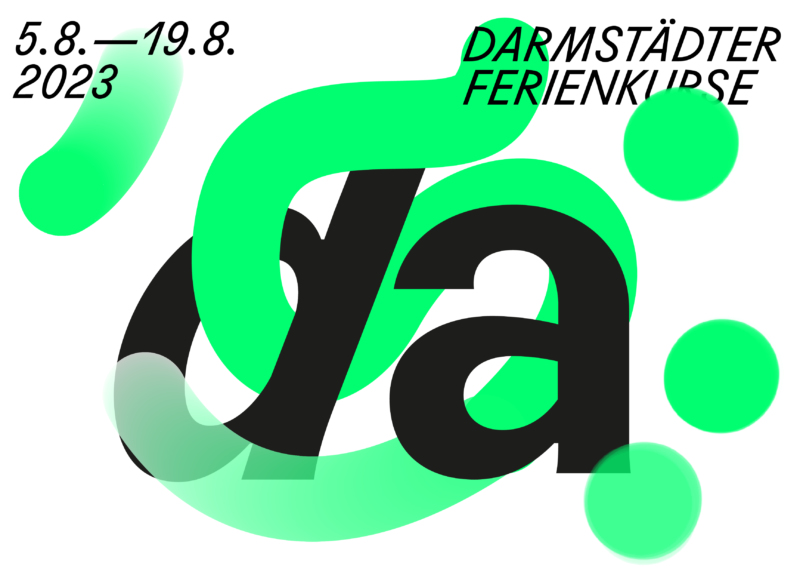 COURSES
Composition Tutors:
Mark Andre, Malin Bång, Anthony Braxton, Chaya Czernowin, Brian Ferneyhough, Dai Fujikura, George Lewis, Isabel Mundry, Sarah Nemtsov, Stefan Prins, Jorge Sánchez-Chiong, Rebecca Saunders, Alvin Singleton, Tyshawn Sorey, Iris ter Schiphorst, Hans Thomalla, Jennifer Walshe, Katherine Young, Du Yun
Visiting Composers:
Arne Gieshoff, Clara Iannotta, Helmut Lachenmann, Brigitta Muntendorf
Instrumental Studios:
Flute: Claire Chase
Oboe: Peter Veale
Clarinet: Ernesto Molinari, Shizuyo Oka
Saxophone: Patrick Stadler, Marcus Weiss
Bassoon: Katherine Young
Brass: William Forman (Trumpet & Direction), Clément Saunier, Rike Huy (Trumpet), Saar Berger, Christine Chapman (French Horn), Uwe Dierksen, Mikael Rudolfsson, Mayumi Shimizu (Trombone), Gérard Buquet (Tuba)
Percussion: Håkon Stene, Jennifer Torrence, Rainer Römer
Harp: Gunnhildur Einarsdóttir
Guitar: Yaron Deutsch
Piano: Nicolas Hodges
Accordion: Andreas Borregaard
Voice: Juliet Fraser, Elaine Mitchener
Violin: Hae-Sun Kang
Viola: Geneviève Strosser
Cello: Lucas Fels, Mariel Roberts
Double bass: Nicolas Crosse
Workshops und Seminare (among others):
Angela Ida De Benedictis, Cedrik Fermont, Antye Greie-Ripatti, Harald Kisiedu, Peter Meanwell, Kate Molleson, Ulrich Mosch, Marshall Trammell
PARTICIPATION FEE

Participation fee: presumably 430 Euro (+ ca. 15 Euro system and booking fee)
Lodging and meals are not included in the participation fee.
If you need to arrive later or leave earlier, the participation fee cannot be reduced.
In addition to the courses and workshops IMD offers participants the opportunity to attend concerts of the Darmstadt Summer Course, depending on the audience capacities of the venues. The festival program comprises around 60 events.
ACCOMODATION
Arrival: 5 August 2023
Departure: 20 August 2023
After registration, our participants will be able to book discounted hotel accommodation in Darmstadt. Maritim Konferenzhotel is a good and centrally located 4-star hotel with spacious rooms. In order to offer an affordable rate, the hotel will slightly downgrade its normal breakfast buffet (separate breakfast room):
Maritim Konferenzhotel Darmstadt, Accommodation in a single room, incl. breakfast: 65 Euro per night (15 nights: 975 Euro)
Maritim Konferenzhotel Darmstadt, Accommodation in a double room with another participant, incl. breakfast: 41,50 Euro per person/night (15 nights: 622,50 Euro)
For bookings at ipartment Darmstadt our participants receive a 7% discount with a special discount code.
On the Darmstadt Tourism website you can find a list of hotels and private accommodations.
We can also recommend contacting the Darmstadt Youth Hostel.

THE DARMSTADT SUMMER COURSE IS…
Presented every two years by Internationales Musikinstitut Darmstadt (IMD), the Darmstadt Summer Course is an international platform for contemporary and experimental musical practices and composition: it is summer academy, festival and discourse platform at the same time and a meeting point of composers, interpreters, performers, sound artists and scholars. Since 1946, the Darmstadt Summer Course has been aiming at bringing together strong musical and aesthetic positions, providing a framework for high-level performance and discourse, a lively international network and an inspiring experience for our participants and guests.