Darmstadt On Air #4


How to write it down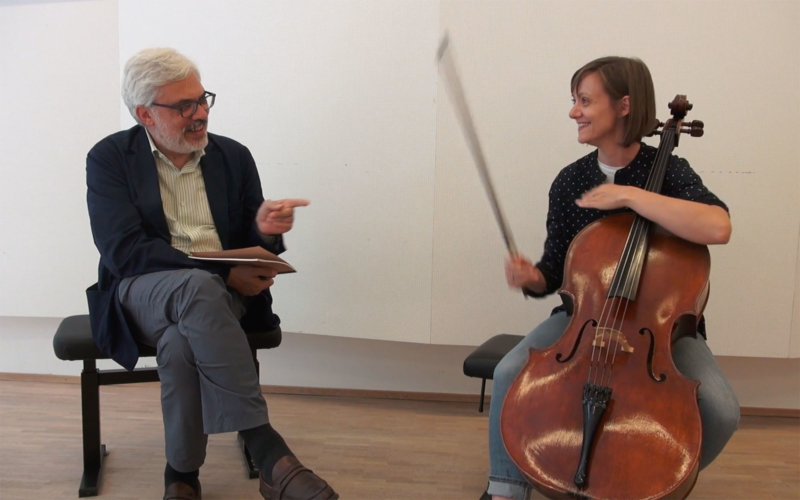 Example: Multiphonics on the cello
The fourth episode of our audio podcast ? Darmstadt On Air is hosted by Lucas Fels, cellist of the Arditti Quartet and our Darmstadt cello tutor. Lucas visited Ellen Fallowfield in Basel in July 2020. Like Lucas, Ellen has a particular focus on contemporary music as a cellist. She is also a researcher and the creator of cellomap.com, an online resource for modern cello techniques.
They talked about legendary cellists like Siegfried Palm and Anner Bylsma, about Helmut Lachenmann's groundbreaking solo cello piece "Pression", about extended techniques and multiphonics on the cello and about questions like: How to write it down? How to bring the instrumentalists' experiences back into scores? How can we describe and refine the interplay of research on the instrument and the composers' imagination?
Darmstadt On Air is also available on Spotify, Apple Podcasts and Google Podcasts.
Many thanks to Ellen Fallowfield and Lucas Fels, to Hochschule für Musik Basel for providing room and equipment, to Omri Abram for recording, to Stefan Prins for the jingle, and to Olaf Mielke!

Ellen Fallowfield
Ellen Fallowfield studied cello with Andreas Lindenbaum and Martina Schucan in Graz and Zürich. She undertook specialised studies in the performance of contemporary music at the Musikhochschule Basel. She is an active interpreter of new music; the composers Helmut Lachenmann, Beat Furrer, Erik Oña, Caspar Johannes Walter and Carola Bauckholt have been particularly informative, as has collaboration with young composers in the creation of new works. Regular performances as a guest in various ensembles have taken her to international festivals, including Musik Triennale Köln, Acht Brücken neue Musik für Köln, Musikfest, Berlin, Huddersfield Contemporary Music Festival and the Lucerne Festival. Ellen Fallowfield is the creator of the online resource www.cellomap.com.