Darmstadt On Air #7


Spaces and islands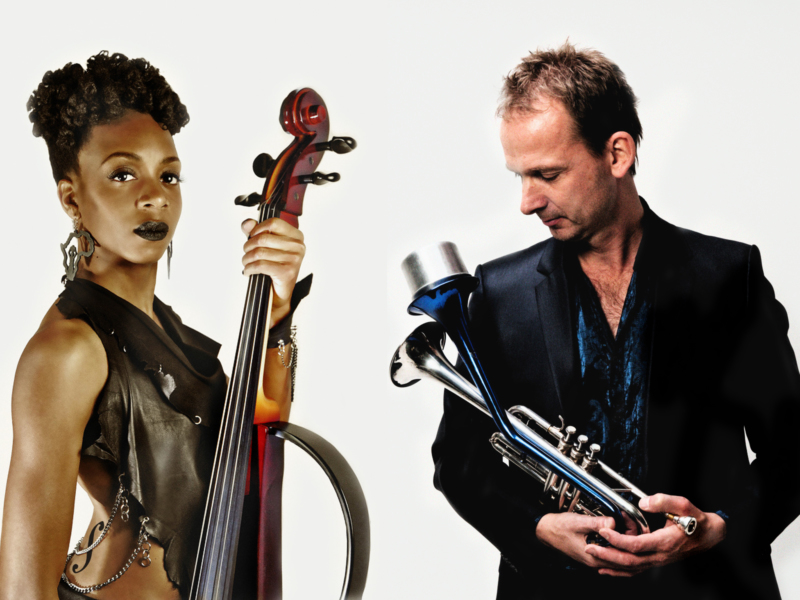 In the 7th episode of ? Darmstadt On Air we are witnessing the start of a new artistic collaboration between two extraordinary musicians: Marco Blaauw, trumpet player of Ensemble Musikfabrik, soloist and Darmstadt brass tutor has started a series of seven commissions that take the human breath as their main idea and inspiration.
Ayanna Witter-Johnson will contribute one of the new pieces for trumpet. Born in London into a family with a Jamaican background, Ayanna's musical expression is taking many different shapes: she is a singer-songwriter, composer, cellist, pianist and performer who embraces various musical cultures and, as she names it, navigates transnational identity within her music.
After a first e-mail and Skype exchange, they met in person on 4 September 2020 in Cologne on the occasion of the premiere of Ayanna's commission for Gürzenich Orchestra and conductor François-Xavier Roth. Sitting in the Musikfabrik studios (with musical rehearsals in the background), they had also listened to Marco's interpretation of Georg Friedrich Haas' lament in the memory of Eric Garner from 2015 with the title "I can't breathe".
In their conversation they touch topics like belonging and background, everyday experiences of being a black woman, being a black female artist and the burden of having to represent that group. They talk about white privilege, about one's personal sound, about being on the fringes of may worlds and about bringing other people into the space.
Darmstadt On Air is also available on Spotify, Apple Podcasts and Google Podcasts.
Many thanks to Ayanna Witter-Johnson and Marco Blaauw, to Stefan Prins for the jingle, and to Lennard Schubert!

More on Ayanna Witter-Johnson: http://www.ayannamusic.com
© ️Ayanna: Bumi Thomas, Marco: Hans Hebbink