Dance & Music


Workshop Stefan Prins & Vera Tussing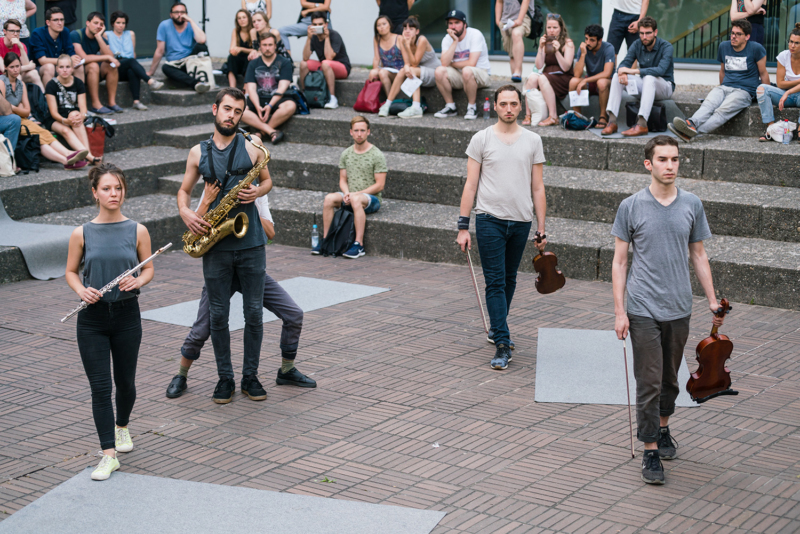 Intensive workshop with selection process

Tutors: Stefan Prins (composer/performer) and Vera Tussing (choreographer/dancer)
Workshop times (attendance to all those dates obligatory): daily from 10:00–13:00 respectively after verbal agreement
Possible number of active participants: 14 participants in total, working in small groups
Participants: Composers, musicians, dancers and performance artists who want to collaborate and are chosen from the Call for Participation.
How to apply: Please see below!
Application deadline: 15 June 2021
Costs: Instrumentalists who are registered for one of the interpretation studios, don't pay extra for the workshop. If you only take part in the workshop, the fee will be 207,00 € (incl. 7,00 € booking/credit card fee, excl. lodging and meals).
Description
Stefan Prins and Vera Tussing are offering a workshop on transdisciplinary collaboration between dance/performance and composition/musical performance. It is for composers and/or instrumental performers who want to develop a project with dancers/performance artists and for dancers/performance artists who want to develop a project with composers and/or instrumental performers. You can apply as an already existing group of composers, performers, or dancers, or you can apply individually. In that case we will try to partner you up according to your artistic project.
You can apply with a specific concept/project, or with a more abstract desire to develop a transdisciplinary collaboration, which then will take shape concretely during the workshop, working through conceptual approaches and practical strategies.
We are especially interested in collaborations in which each of the different media inspires and generates a different approach for the other through close collaboration and experimentation. The focus is on the working process, rather than the finished product.
The workshop consists of a working period during the Darmstadt Summer Course and will be framed by Stefan Prins (composer/performer) and Vera Tussing (choreographer/dancer). Both have extensive experience on the notion of collaboration with an interdisciplinary approach. They will be present throughout the two weeks as mentors / sounding boards and facilitators for discussions. There will be a daily guided physical warm-up to prepare the participants for their own collaborative processes as well as sessions in which existing inter/transdisciplinary collaborations and projects are shown and discussed.
The participants are requested to be present in the beginning of the workshop everyday from 10:00–13:00. After initial meetings with the whole group the schedule will be adapted for the needs of the participating artists.
As we will have to maintain protective measures, we will work in small groups of 3–4 participants, with masks and distance indoors. Big parts of the workshop will be outdoors.
Application Material To Prepare

Artists interested in this workshop are asked to submit 1 PDF, 3 pages long maximum. No other file format will be accepted. The PDF should consist of:
– 1 page: Tell us about yourself. Include at least 1 and maximum 3 link(s) to (a) representative online video(s) (for dancers) and/or online audio (for composers/performers)
– 1-2 pages: Brainstorm of ideas which you would like to try out during the workshop
Please mention clearly if there is another applying composer/performer/dancer with whom you already agreed to work with for this project, or if you would want to develop collaboration with (a) participant(s) you haven't met yet.
Please e-mail your PDF by 15 June 2021 to danceandmusic@darmstaedter-ferienkurse.de.
Please note that we cannot consider any remarks, links, or information outside the PDF!
Decisions will be made by 20 June 2021 at the latest. Booking will be possible afterwards.
Important: Please take note of our data protection policy and the conditions for participation for the Darmstadt Summer Course before submitting your application.
If you have questions, please e-mail imd@darmstadt.de!