READER: MINOR CHARACTERS
09.08.2023
Matthew Shlomowitz & Jennifer Walshe: MINOR CHARACTERS
for voice and ensemble (2022/23) – 50′
World Premiere of the complete version / Commission of Radio France, Klangspuren Schwaz, La Muse en Circuit and the Darmstadt Summer Course
Jennifer Walshe (Voice)
Ensemble Nikel:
Brain Archinal (Drums)
Yaron Deutsch (E-guitar)
Antoine Françoise (Keyboard)
Patrick Stadler (Saxophone)
Alfred Reiter (Sound)
Ragnar Árni Ólafsson (Subtitles and Live Cue)
MINOR CHARACTERS
The first hints from Jennifer Walshe and Matthew Shlomowitz about their co-authored new work MINOR CHARACTERS sound promising, curious and also a bit mysterious: MINOR CHARACTERS is a song cycle for the 21st century, a chill-metal-bossanova-vaporwave-ASMR-cabaret, an epic plunge into waters by turns neon and muddy, transcendent with mundane scandal, aching for answers as we realise the call has been coming from inside the house."
After initial try-outs at Radio France in the spring of 2022, Walshe/Shlomowitz, together with Ensemble Nikel, for whom this piece is written, presented an extended version at Klangspuren in Tyrol last fall. The complete version, lasting almost an hour, will now be premiered in Darmstadt. When Jennifer Walshe and the four musicians of Nikel come together on stage, you know: it's going to be virtuosic, fast-paced and massive.
With the friendly support of the Ernst von Siemens Music Foundation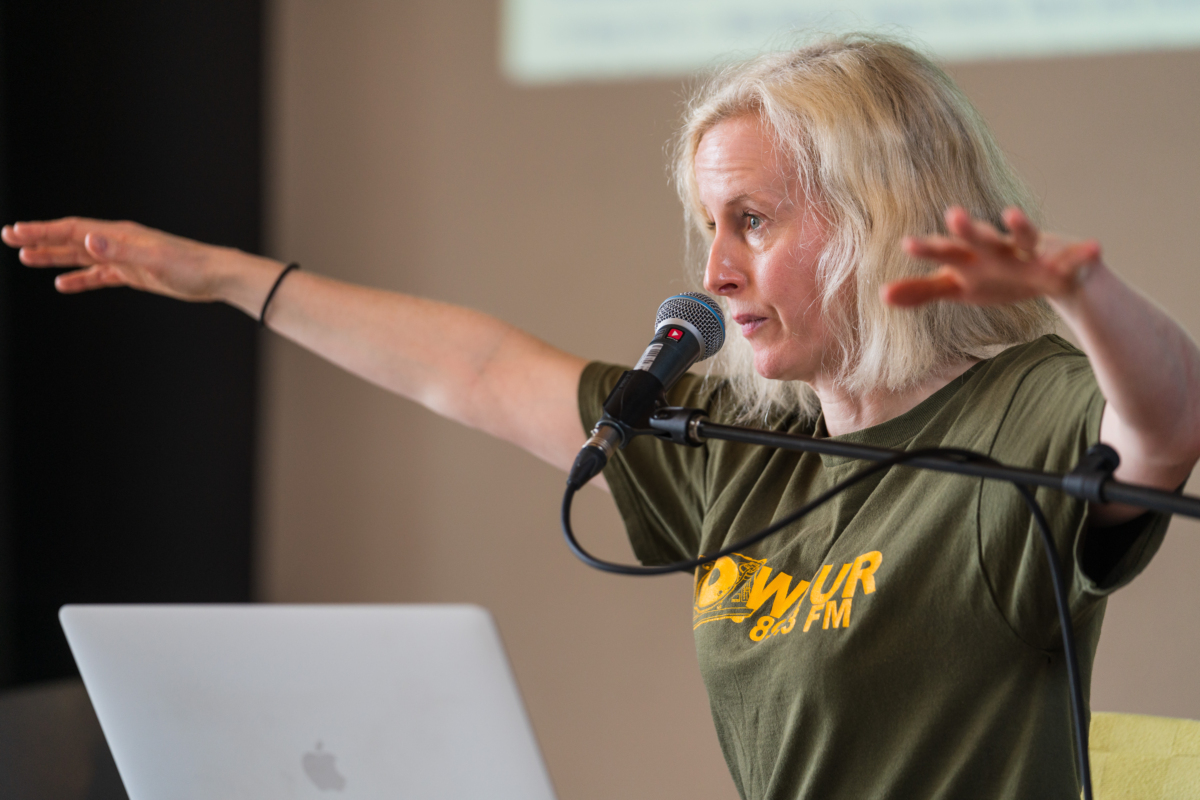 In many of her works and performances, Jennifer Walshe depicts the madness of our modern society, especially our dependence on the internet and social networks. She does this without too much obvious irony, but rather with humour. The title "Minor Characters" is an invention of the vocalist. It refers to a dimension of our reality, to the hectic activity on our computers. It is also an allusion to the "main characters" found on social networks (Jennifer Walshe is a big user of the internet and social networks). The "Minor Characters", on the other hand, are anything but the celebrities or heroes that the internet produces. Jennifer Walshe sketches humorous portraits in miniature here! For these high-contrast pieces, which oscillate between humour, kitsch and sentimentality, she uses texts that she collects from the internet and social networks and then edits. Anyone who finds cryptocurrencies or conspiracy theories exciting has found just the right thing with these "Minor Characters"!

Anne Montaron (Radio France) on Jennifer Walshe
You could say that there is this sort of basic rock sound, because of the electric guitar played by Yaron and the drums played by Brian, but it's also because the part that Matthew wrote for Brian in "Minor Characters" uses the drums, which is not always the case in the music played by Nikel. Brian and Matthew have in common their rock and punk culture; they played this music, therefore, they bring with them specific gestures on drums and percussion. It's very present in the band, it's even the essence of Nikel for me: it's almost a form of philosophy of the band.

Jennifer Walshe on Nikel
Podcast: Nikel, Matthew Shlomowitz & Jennifer Walshe on "Minor Characters"
(30 min, Radio France, in French)
5 QUESTIONS TO MATTHEW SHLOMOWITZ & JENNIFER WALSHE
Who are the minor characters?
Matthew Shlomowitz: the term minor characters refers to the term major characters, which is a Twitter term from a few years ago, where an unexpected person's tweet would go viral for a day.
Jennifer Walshe: People, particularly on Twitter – which I won't call X in this case – talk about the idea of being a main character of the internet each day – but I am interested in the minor characters of the internet which is all of us, having to prosecute our lives through the internet, live life partially online, and what that means for all of us. so the minor characters are all of us!
How do you move across the internet?
JW: I think the same as everybody else. We are forced to conduct a lot of our life through the web now. What I'm interested in is trying to look at that: look at its texture – rather than regarded as something that is not really life, that we switch off from, I ask: What is it really made up of? Sometimes I say to my students: Open up any website and look at the website. Probably there's the content that you are reading, for example on The Guardian newspaper, but then there's all the ads that you're being served, all these materials that are trying to serve you. There's a huge amount of content in the internet that we even don't pay attention to. In the same way, I'd like to think if we walk through a forest, we pay attention to the mushrooms growing in the bottom of a tree and to the birds in the tree – I feel we should pay attention to all those things.
How was the text for MINOR CHARACTERS created?
JW: I work with a lot of different text archives. I collect a lot of text and I write a lot of texts. So, in the same way that a DJ might flip through their records and look for interesting tracks, I looked through my archive and then I wrote stuff as well, because once I started to put the different parts together, a kind of story and dramaturgy emerged. So I write text and edit text to reinforce that dramaturgy.
How did you work together with Nikel?
MS: We worked together for the last two years in different periods developing it.They added a lot of gold all over the place. The piece is largely not scored, but even those moments that are scored they are adding a lot of colours and details and decisions. So it's really a massive contribution.
What happened since you started collaborating in 2022 at Radio France?
MS: There's basically three phases. The first phase we got this commission for making five two-minute-pieces for Radio France. We made five little songs in a week, one every day. Then we took it to a next level and made this 23 minute version which was premiered last year at Klangspuren Festival in Innsbruck. And now this is the third and final phase which is upscaling it to nearly one hour.
© ️Kristof Lemp (IMD)
© ️Anne Montaron (Radio France)