READER: PIANO SPEAKERS
Blecharz / Nakamura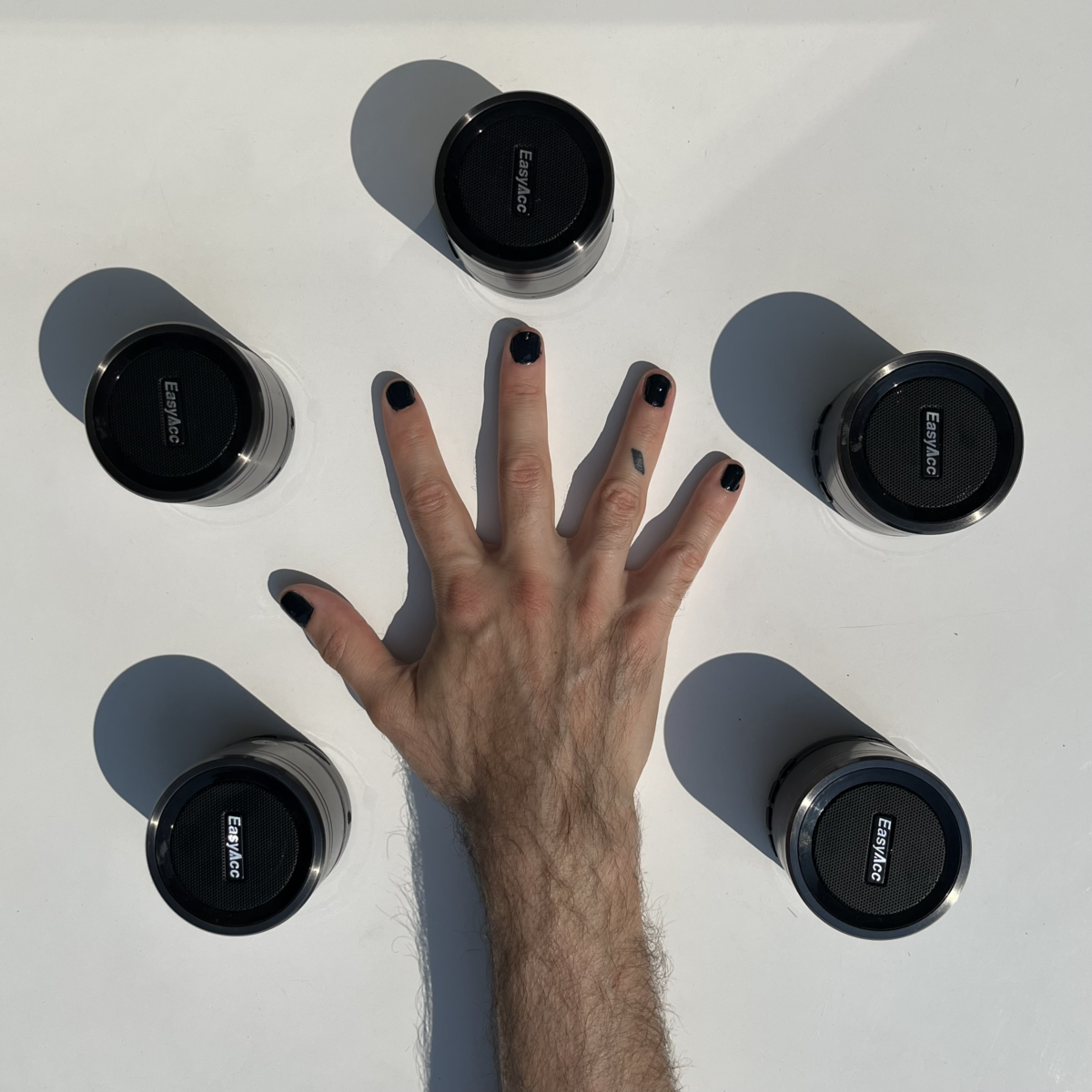 Wojtek Blecharz: Concerto for Piano and Wireless Speakers (2021–23) – 60'
World Premiere
Rei Nakamura (Piano)
Wojtek Blecharz ("Conductor")
Nicolas Navarro Rueda (Costume)
With the support of the Akademie der Künste Berlin and the Musikfonds.
Wojtek Blecharz's Concerto for Piano and Wireless Speakers is the first piece by the composer in nearly a decade that was not a commission and therefore it was created without the related time pressures. At the suggestion of pianist Rei Nakamura, who is a guest this year with a workshop at Nicolas Hodges's Darmstadt Piano Studio and has been commissioning several works for piano and other media for many years, Wojtek Blecharz works on the foil of a genre steeped in tradition (the piano concerto) but performs it in a highly experimental manner, dispensing with an instrumental ensemble or orchestra altogether and replacing it with small mobile speakers. While Rei Nakamura takes on the role of the soloist, the composer acts as a kind of "conductor" by placing the loudspeakers in the room, quite possibly in interaction with the audience. If one associates the industrial revolution with the possibility of mass-producing musical instruments, then the small mobile loudspeakers, for their part, refer to the digital revolution, with which the mass storage of sounds and their reproduction at any place and at any time becomes possible. Wojtek Blecharz – born in Poland in 1981 and winner of the 2012 Darmstadt Summer Course scholarship – was probably also thinking about this when he replaced one "sound body" with the other. Thus, this hybrid setting creates a completely new musical space that creates desires different listening perspectives.
THE CONCERTO IN THE 20TH CENTURY
Since the 1970s, a renaissance of the concerto can be recognized, in which historicizing echoes, new methods of sound production and extreme virtuosity come together. In addition to the efforts to open up new areas of expression (W. Rihm, D. Müller-Siemens, H.-J. von Bose, etc.), an aesthetic diversity bordering on arbitrariness sometimes prevails, which one may welcome as 'polystylistics' or deplore as the lack of a distinct language of one's own; it is probably an authentic expression of a time dominated by the consciousness of general insecurity and seeking a foothold in the past. Especially in the concerts of musicians understood as 'post-modern' (A. Pärt, Schnittke, S. Gubajdulina and others) recourse to historical forms, instrumentations and sounds is clear. Moreover, each work remains "a kind of adventure: it demands a renewed search for a timbre, a chord, a precise rhythm, to which I give an equally precise expression" (Carter on his Oboe Concerto 1987, in: Program Booklet for the Concert 10 Years Paul Sacher Foundation, Basel 1996, p. 17). The principle of concertizing has long since ceased to be bound to special instrumentations, forms or styles, but defines itself as an ever new playful togetherness.
Volker Scherliess und Arno Forchert, in MGG online (November 2016)
Wojtek, in 2012 you received a scholarship prize "for perfection in music composition" in Darmstadt. Now you are returning with a long format piece. How did your artistic life take shape since then?
Wojtek Blecharz: Basically my career has started. Eleven years ago I didn't have commissions, I was just starting as a late bloomer, being 31. The Concerto for Piano and Wireless Speakers is in a way connected to my Darmstadt history. When I came to this legendary festival back then, we had to listen to very demanding music, two concerts per night. Mostly they were seated – you just sit and think. For me, this was the starting point of trying to find new ways or to redefine existing formats of presenting music.
How did the two of you find together to collaborate artistically?
Rei Nakamura: I have listened to Wojtek's music, and it's an experience everytime. You really have to be in the moment. I work with this type of performance which focus on the very moment – your state, the present. I wanted to collaborate with Wojtek in this way.
Wojtek: Rei is specialised in multimedia performances. I really like that she is so attentive to choreographies, to the way how she presents herself and moves.
Wojtek – what makes wireless speakers so interesting for you?
WB: For my third opera installation, I worked with 100 vibrating transducer speakers, so people can experience sound through vibration. Of course that's lovely, but it's also 700 meters of cables to set up. So I ended up in working with wireless speakers. During Covid I spent a lot of time with them at home. I set them up in my small Berlin apartment and immersed myself in the soundscape. This was so pleasant to be embraced by sound. In this piece, and also in my Third Symphony for 200 Wireless Speakers, these devices replace the orchestra. It's also a critique on existing institutions or formats of music. Of course I had good experiences in working with orchestras, but also really hard ones. Working with the speakers is so easy, you just have to charge them. It's also connected to the technological revolutions. In the 1970ies the Walkman was invented. It changed so much of how we perceive sound. It was the first portable sound source. For the first time you could isolate yourself in sound and walk through the city in this state. I see these portable speakers not as an orchestra that has to be mastered, but more as a garden of sound. I perform them, I move them around. Step by step I build a sonic rhizom in the concert space, trying to embrace and surround people with sound and give them different types of sonic treatments. I want to move away from this dominant conquering approach that was so present in Western music for centuries.
But still there's one of these musicians left – she's sitting here with us. So, Rei, what's your role in this? How is it for you to play with 50 wireless speakers instead of humans?
RN: Yes, this part, this role of a soloist has remained. Dealing with this moveable soundscape is very interesting, because not only the sound changes in each of the parts, but it also gets moved in the space. There is a relation happening between the sound and the actual space – not only for the audience, but also for me it is very interesting to experience this, being in this sound world to create a solistic part.
WB: In the piano part there are references to piano works that were important for me, for example to Guero by Lachenmann or to the way how Scelsi played the piano. Also, this concerto actually has those classical elements: There is the first theme, the second theme, the transition. But a theme doesn't have to be a motif. It can be a concept, or a cluster of speakers on the floor. For example: This line of speakers in the space, this is our transition. It's kind of playing around with these old concepts, but redefining them. There is also a cadenza!
Will we recognize it?
RN: I think so.
WB: When you look at the history of this genre, the concerto, then it was always about this fight between the individual and the orchestra. It was about competition and being very virtuosic. In my music, you don't find this. I rather follow the spirit of Éliane Radigue or Pauline Oliveros. The music is free of tension in a way. This dominant and conquering approach to sound is not relevant to the speakers. Rather, they form an organic, rhizomatic plant structure. They are never synchronized – it's all about micro loops, micro canons and multiplicity. This Western obsession of synchronizing and mastering everything is removed from the nature and structure of this music.
Rei, do you miss the straight musical timing sometimes?
RN: Well, timing and measures create a structure, a form. There is always limitation, also in this piece – think of spatial limitation for example. Having limitations within a freer space creates another kind of form. And it creates structure to have the discipline while playing, this inner tact. Otherwise it can get too arbitrary.
Wojtek, in your short video you quoted Pauline Oliveros who said that we are turning from being carbon beings to silicon beings. What's your take on this?
WB: Well, it's rather plastic beings unfortunately, because there is more and more plastic in our bodies. I work with low quality everyday objects, also as a reference to sometimes being overwhelmed by technology in general. I don't have access to a fancy electronic music studio on a daily basis. So this is what I have, what is available. It's also a reflection on passing technology. The company from Hongkong stopped producing these speakers due to exjuction on its metal parts. I grew up as a person without access to social media. My life was quite free of mechanical devices, despite my bike and our shared TV. Now I write my music on the computer. Electronic devices organize our life so much, they even determine it. So this music is an attempt to move away from that in a very poetic gesture and to create something more dreamlike.
Questions: Friedemann Dupelius