READER: GROWING SIDEWAYS
06.08.2023
Brigitte Wilfing & Jorge Sánchez-Chiong: growing sideways. Choreografische Komposition in rückfälligen Verhaltensmustern (2021/23), World Premiere
To side-step and feel ahead, to grow sideways between the traces of the past and to look backward with anticipation of a lateral proliferating progress. Suddenly we have the future in our necks. How many steps can we step back? Will we be caught by a hug or will we fall into the abyss? The image of moving forward, as an expression of development and improvement, the localization of the future as infront of us, has written itself into our bodies and is reflected in the way we live and work. growing sideways is an invitation to add new directions of growth to the Western paradigm of progress and is taken literally by the performers, as a choreographic-compositional instruction. Ways of playing and moving are inverted, in playful reorientations, back-twists, side-twists, upside-downs and other wild growths. In their third joint production growing sideways, Brigitte Wilfing, Jorge Sánchez-Chiong and their ensemble andother stage, show a further form of musical theater in the permeation of choreography and composition.
andother stage:
Jorge Sánchez-Chiong (Composition, Electronics, Performance)
Brigitte Wilfing (Choreography, Voice, Performance)
Mirjam Klebel (French Horn, Performance)
Alfredo Ovalles (Keyboards, Performance)
David Panzl (Percussion, Performance)
Jan Maria Lukas (Light Design)
Florian Bogner (Sound Design)
Only through intensive exchange do we learn to understand the language of the other medium and the other artists. Only then can transform something and shift in one's own medium and in one's own thinking, which is the essence of transdisciplinarity. Only then are translations from one medium to another possible.
Brigitte Wilfing
ANDOTHER STAGE – THE ASSEMBLE
Researching artistically and discursively at the intersection of music, choreography, performance, and new media, andother stage develops programs that strive for a transdisciplinary engagement, presentation, and mediation of art, focusing on current political and sociocultural issues.
In full-length stage productions such as Land of the Flats (Wien Modern 2019), growing sideways (Wien Modern 2021 / Darmstädter Ferienkurse 2023), or When We Play (in progress for Wien Modern 2023), a rock and techno instrumentation testifies to the proximity to pop culture. The assemble's exploratory approach to advancing music technology coincides with the choreographic practice of rarely playing instruments in the usual posture.
The assemble not only establishes a proximity to the ensemble and the music, but also designates an assemblage of people, disciplines, media, instruments, objects and discourses and affirms other forms of interplay – a transdisciplinary work that experiments between high culture and subculture, the human and the non-human, the body and the sound generator.
On an international level, it cooperates with like-minded progressive ensembles, such as the Ukrainian collective Opera Aperta (Kyiv) and the New York Mivos Stringquartet. Together with the ensemble Phace, andother stage developed the mediation project Upcycling Babylon (Kulturkatapult 2021), which introduced new positions in art to apprentices with a migration background.
Electric guitars, drums, synthesizers, turntables, video games and rapping voices are protagonists of the current discourse-oriented performance and concert cycles Me The People – Music and Democracy (MDW 2022-23) and Posthuman Social Club (in planning for 2023-24).
JORGE SÁNCHEZ-CHIONG ON THE TURNTABLE AS AN INSTRUMENT
After moving from Caracas to Vienna I didn't touch turntables for several years. Before, I was influenced by HipHop, and later also Rave music. In Vienna I was visiting almost every single concert of DIY and improvised music in the 90ies, observing many different usages of turntables. I was surrounded by a lot of artists coming from the DIY scene, who influenced me a lot. And it was a pleasure to play with Joke Lanz and Dieb13 just one year after I started with turntablism.
⚫
The moment I started playing turntables, I just had finished my studies of composition. Some colleagues were getting mad about this crazy guy playing turntables – "what's wrong with him?" –, but it was very cool for some others. Yet it's easy to be cool with turntables in a scene that is quite uncool! But it wasn't about being cool for me, neither about being frustrated, it was just about possibilities. In the 90ies there was a very strong movement of people in Vienna working with electronics in a non-academic way. Me – who was consuming contemporary music and art – was questioning: Why did nobody from my university do this great stuff? At the moment the turntables became an instrument for me, it was also about creating projects beyond writing music on paper, where you need musicians or an ensemble and things can become really slow and expensive.
⚫
For years, I was perceived as a contemporary composer with a classical background, but suddenly I felt just as the guy who came freshly out of his parents' record store. I felt wrong about this bourgeois temple of culture, so the turntable was very good for me because I could work with people on a high level, but without hierarchy – something that I was missing in the classical environment.
⚫
I don't know if I can separate the person who plays turntables from the one who is composing, even though "both" are working with different media and background of knowledge and information. For me it was a very long journey to come to Europe and become a contemporary, experimental composer; but in spite of all research undertakings and academic efforts, at the end of the day I don't forget that I grew up in the record store of my Cuban parents in Venezuela. At one moment, long after I graduated in composition, I just found myself with the turntables at home in Vienna.
⚫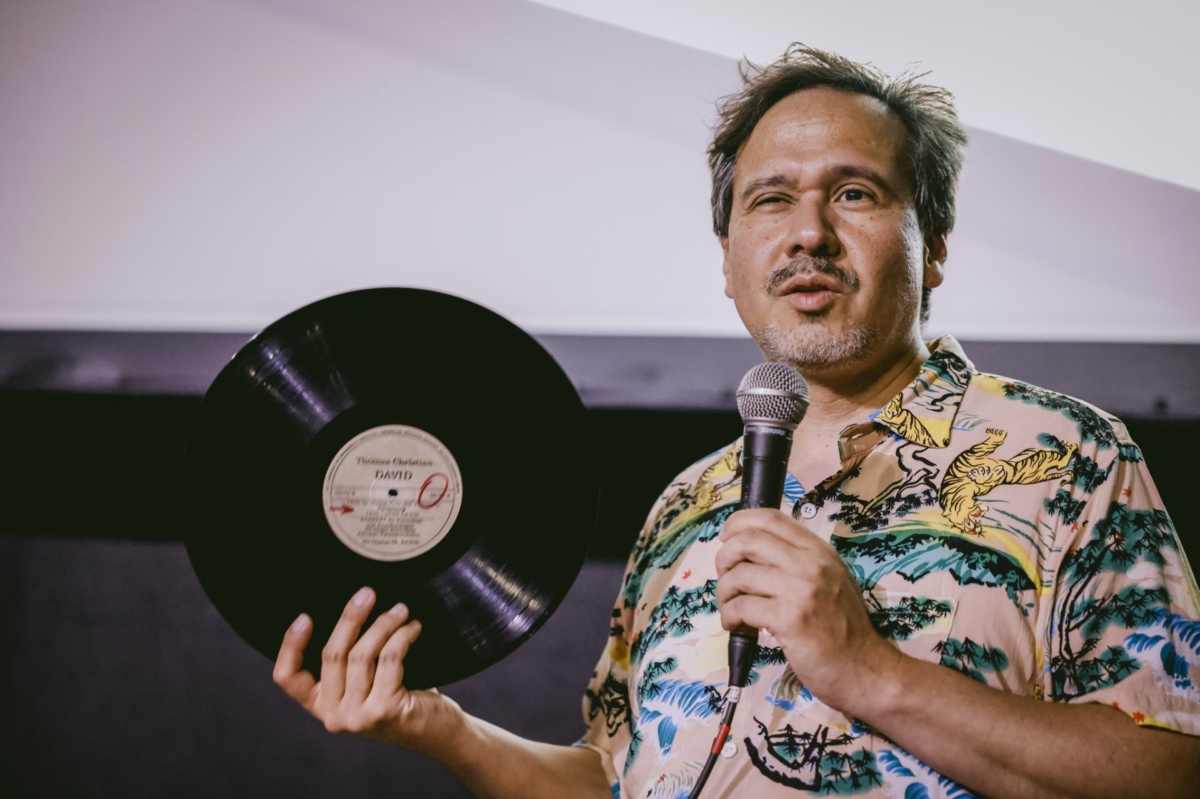 I maybe have a kitschy approach to working with records: I am playing with many records of friends of mine. But mainly, I'm using a lot of personal stuff, such as recordings from my pieces, own releases, and music or sound fragments just made to be manipulated by the turntables. This is richer and easier since I'm using Serato [a software which plays digital sound files, using a control vinyl disc] now.
⚫
It's important to be open for surprise and to be able to interact. If, for instance, it sounds somewhat different than you expected, it should just be an invitation to the possibilities of turntablism: It can then become the thing you really want when you're reacting to it, or better, interacting with it, changing it and its context in real time.
⚫
Recently I was improvising in a club and a drunk guy came to me and asked: "Do you know all these recordings?" I was like: "Of course, I just have 20 to 40 with me. That's nothing." But if I don't know them – what's the matter? This headroom for surprise is the most important thing. Playing live to keep you on the road. If I just played my routine I would feel like a monkey in a circus.
⚫
I think it is also about changing this very unhealthy relationship to music making, when it's only about failing or succeeding. This is an old-fashioned way of thinking. We will change with AI anyways. We should orientate more on doing experiments and messing with things.
⚫
There is this sporty aspect to turntablism, this fascination for technical skills. It's also beautiful somehow. But to focus only on the technical part means to deny many or at least some things. For me the important thing about the turntables is what you can discover through this medium. It's something that opens up a lot in the moment. It's a very different kind of playing, very unique. I tried to quit the turntables for several reasons – but it's the only drug I cannot quit. Sometimes I have this very childish idea of quitting again, but a week later I'm playing again. And I'm very happy with this.
⚫
© ️Markus Sepperer
© ️David Panzl
© ️Markus Sepperer
© ️Markus Sepperer
© ️Markus Sepperer
© ️Markus Sepperer
© ️Matej Grgic
© ️Matej Grgic